2010 Protec Pool Party Wrap-up / Part 2
Posted 05/24/2010 09:08:00 by
i am vans
The lead-up practice sessions to this year's pool party were fairly quiet, but impressive. If you witnessed any of them you know as well as anyone that everybody was keeping a little bit of juice hidden up their sleeves for contest day. Probably a wise strategy with the increasingly high level of skating that the pros are capable of these days. If you happen to be a veteran pro rider, you have to know that some the young dogs coming up are hungry to take you down. You wouldn't want to be dropping your winning lines casually in front of an audience plotting your downfall in any walk of life, let alone skateboarding, especially if you've already held this particularly prestigious title. 30 large on the line might make anyone play their cards close to their chest right? In addition to 2009 rookies Pedro Barros, Michael Brookman, Nolan Munroe, Alex Perelson, and Josh Rodriguez, this year the vets had to also fight off the likes of the smooth Zach Miller, speedball Sky Siljeg, and the incredible Ben Raybourn. Ben's skating was one of the highlights of this year's event, and he missed the cut to the finals by fractions of a point, as he ran bucket-less and padless like a bat out of hell. Brookman, Zach Miller, and Sky missed the cut as well, but put in a very strong showing and are building the foundation of the future of skateboarding daily.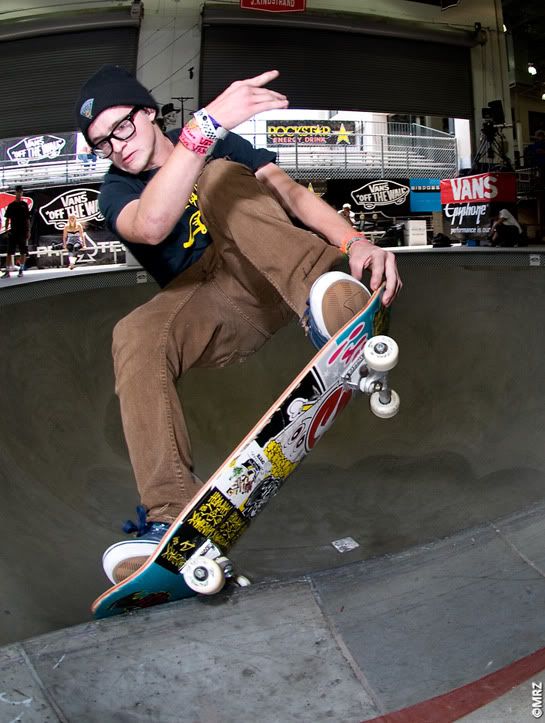 The beast that is Ben Raybourn.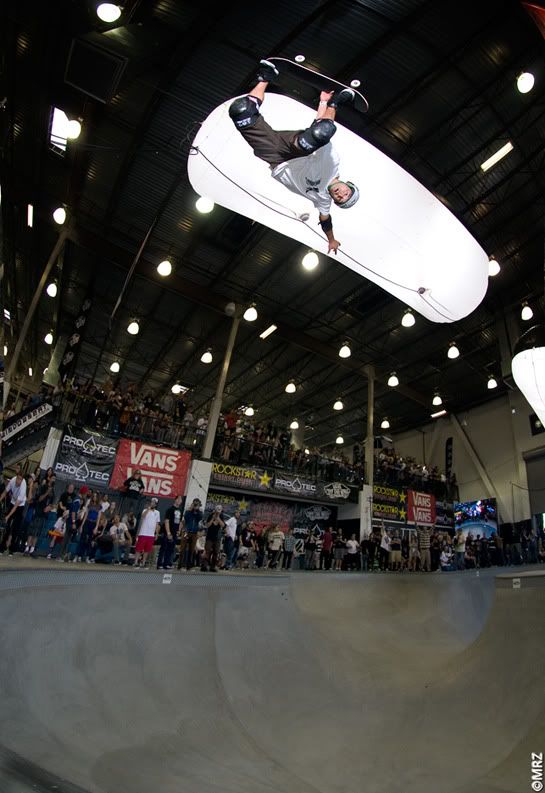 Okay Lincoln Ueda, you are just plain nuts.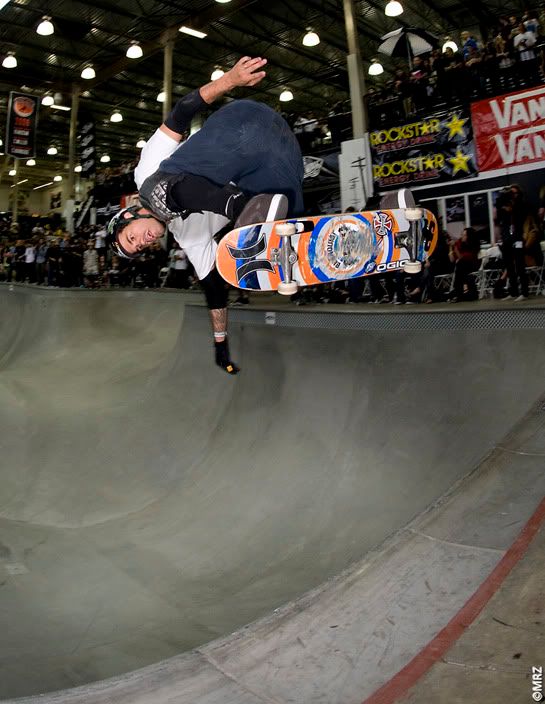 Even with an injury, Burnquist can throw down.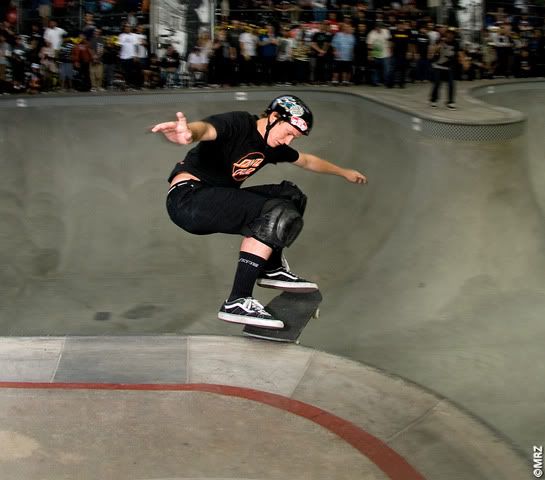 Josh Borden's tailslide off the hip into the round, nearly clearing the saddle.
Any question as to the intensity of this year's pro event was erased immediately in the very first heat. Pedro Barros laid down blistering runs as if it were the final minutes of a final jam. Lincoln Ueda was going nearly high enough to pull down the title banners strung from the ceiling. Bob Burnquist threw down his signature unpredictable chaos, and young gun Josh Rodriguez held the fire to everyone's feet getting his high-speed tricks into every sector of the Combi. These 4 guys not only set the bar higher than ever, they powered their way into the finals with complete authority. They would join Heat 2 destroyer Nolan Munroe, the 3 previous champions Omar Hassan, Rune Glifberg, with last year's champ Bucky Lasek from heat 3, and Alex Perelson and Josh Borden from heat 4. It probably sounds like an overplayed cliche, but in all truthfulness, each of the qualifying heats had the energy of a final, and the level of skating was several notches above previous years. By the time the final kicked off, the entire packed house was screaming its lungs out.
If you've ever been lucky enough to be inside the Protec Pool Party during the pro finals, you know how it goes. Intro runs run the entire spectrum from low-key warm-up to door-slamming bombs like Omar Hassan's nearly 2 minute run of genius 2 years ago. They could have just stopped the contest and handed him the trophy. Any way it starts, within 2-3 runs, everybody is pushing well beyond any sane limits. Speaking of beyond any sane limit, Lincoln Ueda exercised absolute reckless abandon as he peaked out airs in the 12 foot range. Lincoln's atmospheric launches landed him in 10th. Bob Burnquist is tougher than you. During the qualifiers, Bob took a slam that could have easily been an "I quit" for many people. The way Bob limped out to get some therapy, you wouldn't have expected him to go on, but there he was in the finals throwing down such absurdly difficult moves as frontside 50-50 reverts through the square corners. Bob earned 9th for his troubles. 8th place went to Josh Borden and his frenzied lines with a couple of huge and very proper 540's. Josh has been riding a lot of backyard pools over the last year and you can see it in his reflexes in moves like his high speed tail slide transits of the hip out of the square.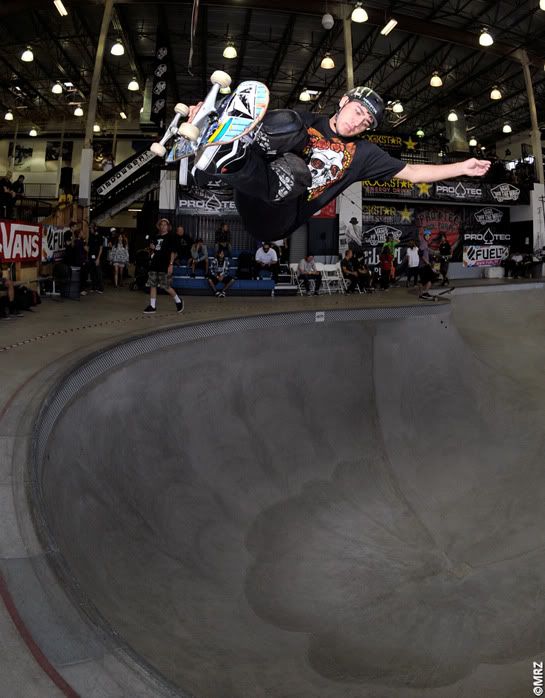 The scorching Alex Perelson.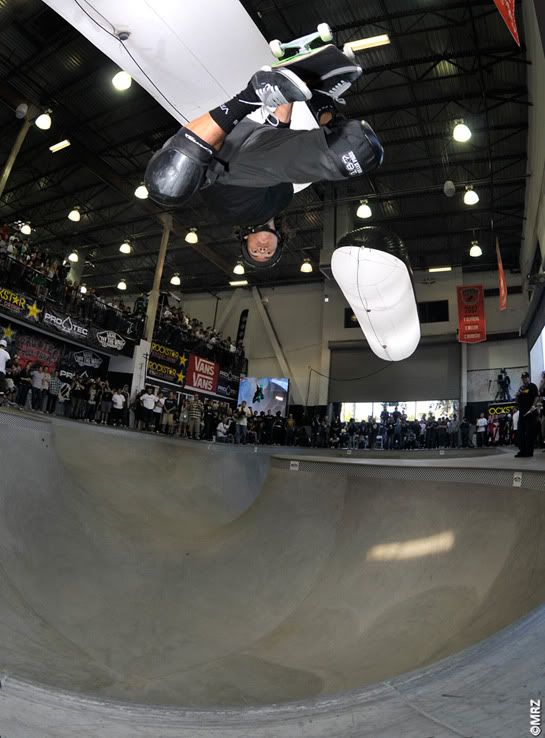 Josh Rodriguez getting bent.
Nolan Munroe's huge blindside 5.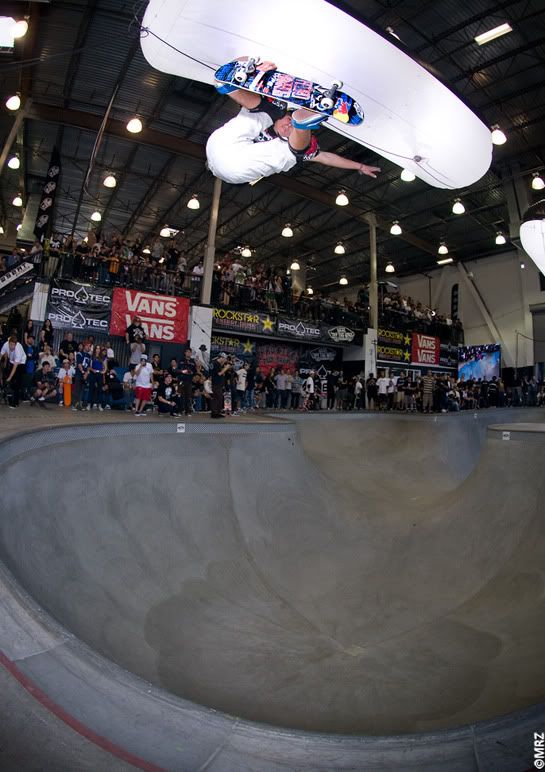 Pedro Barros getting high.
If you're looking for one of the young guns who represents the next evolution in vert and bowl skating, Alex Perelson would certainly be the best choice. 5 foot Caballerial disasters, overhead stalefish to truck bash and/or tail, and impossibly hard lip work such as 50-50's through corners into reverts. Alex put together a couple of lines that brought the house down and took home the number 7 spot. Josh Rodriguez seemed to be keying off of everyone's energy and putting down some of the longest banger-filled runs of the day. Josh smiled the entire jam and handled 6th place with insane endurance. Cracking the top 5 at this year's contest was a serious achievement. With 3 previous champs in the running and several contenders hungry to take them out, it might be compared to climbing Everest without oxygen tanks. Nolan Munroe got it done with huge 540's, a couple of massive lien 360's, and perhaps one of the most insane things seen, a big madonna gone bad through the corner that Nolan simply muscled in without any tail contact. Look for a lot more out of this number 5 finisher in the immediate future.
After winning the first 2 pro bowl events of 2010, Pedro Barros came into this thing on a literal roll. Pedro is the latest brasilian bomber to invade every other country on earth with an arsenal of 540 variations, flip grab tricks, and mach speed lip attacks. Pedro threw down 3 back-to-back 5's and put a stranglehold on 4th place for the second year in a row. If you look back on past Pool Party results you'll quickly realize that Omar Hassan and Rune Glifberg have been locked in a perennial dogfight to take the title. Up until Bucky Lasek's victory last year, only Rune and Omar held the top honors 4 years running. 2nd and 3rd place could have gone any which way. Omar had enough juice to win the whole thing but somehow he wound up in 3rd, barely edged out by Rune, at least in the judges' eyes. Even being a Portland, Oregon resident now, Omar is still an absolute master of the Combi. In past years, Rune Glifberg has always thrived on the chaos of the jam format in the pro finals, seemingly able to navigate around multiple riders in the bowl with him and still throw up massive airs and precise lip attacks. The organized nature of this year's final may have let Rune let his guard down enough to end up in 2nd. In 2008 Bucky Lasek came within inches of winning the damned thing, and in 2009, he iced it completely for the undisputed win. This year Bucky returned to defend his title and threw down everything he had. The difference with Bucky is simply put, tricks nobody else can do. McEggs, boneless 540's massive method airs to fakie through the corners and impossibly bent Andrechts to fakie. In case anyone was wondering whether last year was fluke, Bucky proved them all dreadfully wrong, to the tune of $30,000 dollars. Congratulations Bucky!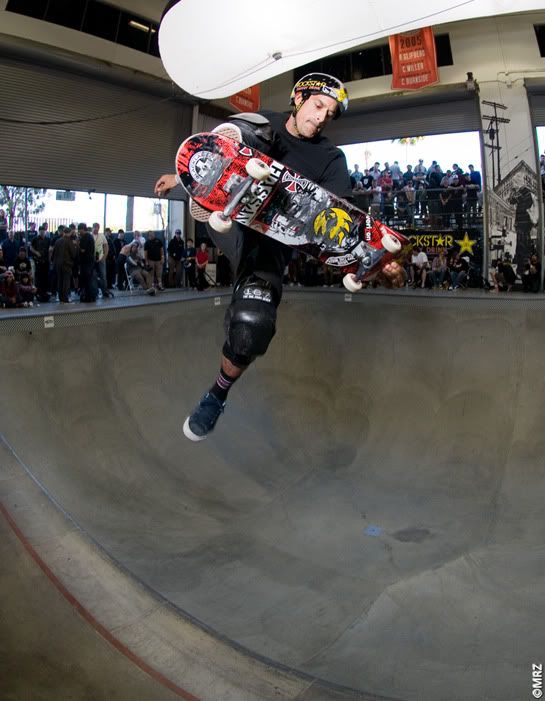 Omar Hassan, huge madonna.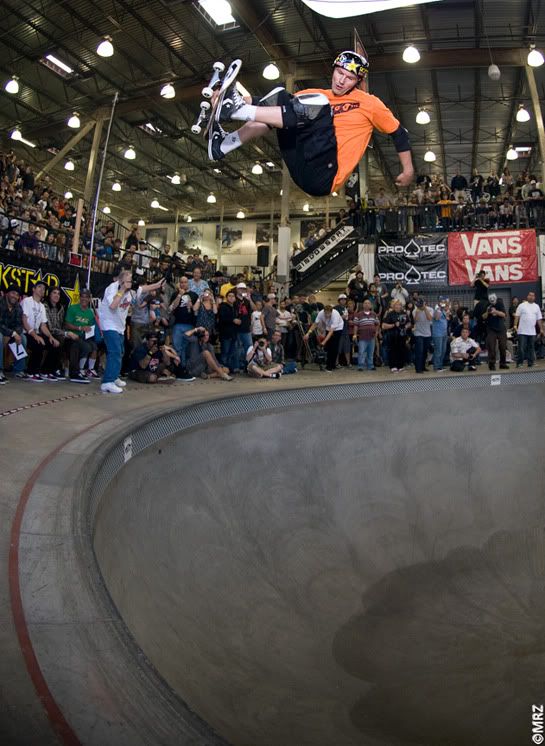 #2 Rune Glifberg in outer space.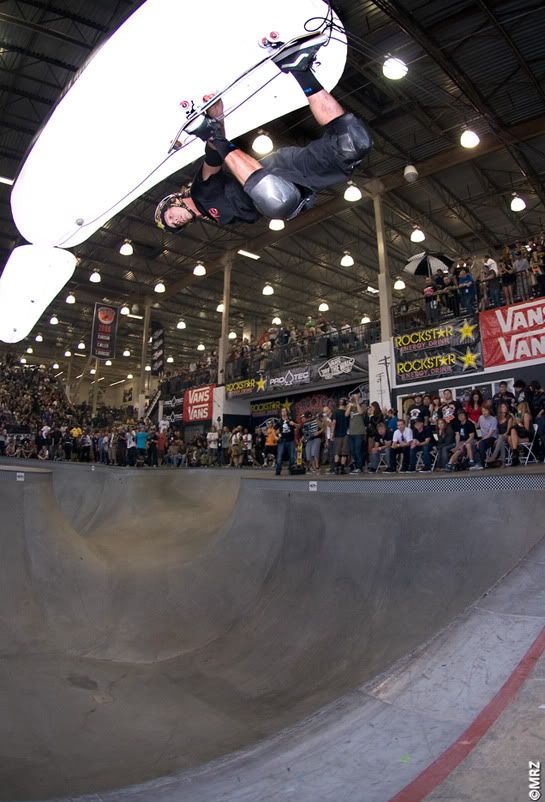 Hey Bucky, your shoelace... Oh wait, never mind, please continue winning.
So another Pool Party is a done deal. This is the best contest there is in skateboarding, and probably the hardest one to judge. The debates will rage for months, but what's really important is just how amazing all of the riders are and the energy they are putting into this thing we all love. Now get out there and get some! We are out.
-BLKPRJKT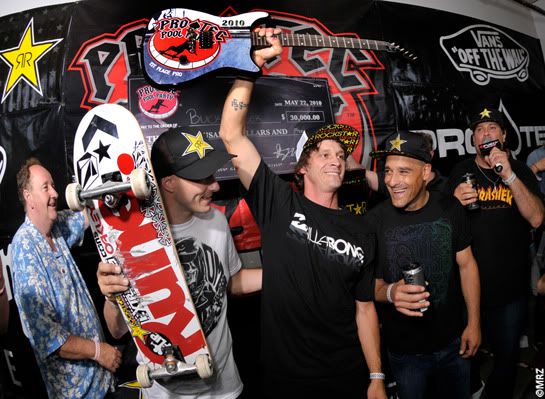 Parting shot: Top 3 in the moment.