2010 Protec Pool Party Wrap-up / Part 1
Posted 05/24/2010 12:22:00 by
i am vans
Put That Stuff On Teevo, Son.
Have you ever felt the need to see something again? That's sort of how I was feeling immediately after the curtain came down on yesterday's Protec Pool Party. This ran completely counter to some people's pre-contest opinions which questioned the purpose of running the 6th installment of this storied event. For those who were thinking it had become stale, I only wish they could have been there. And for all of the pre-event ballyhoo and nay-saying by those few, the 6th installment was even heavier than the first 5. You would be hard-pressed at this point to find anyone in attendance who would disagree. I still want to see it again. You might want that too.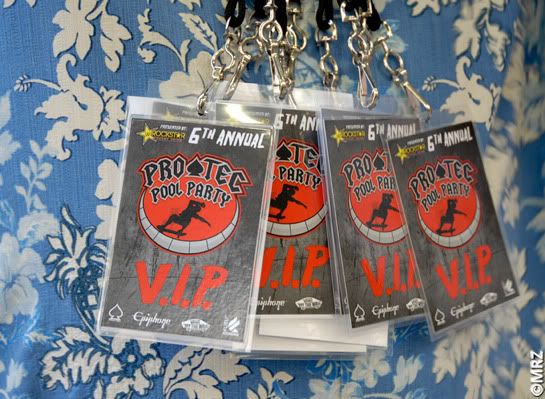 Pound for pound costs more than gold
The hottest Ticket In Town.
Yeah, it was a hot ticket alright, so hot that fools were kiting falsified passes on the interwebs. A brief line check just prior to start time revealed hordes of skate-hungry masses milling outside the gates. Enthusiasm for this event never wanes on the "day of". Lucky attendees mingled with wishful thinkers all waiting for the fire to be lit. And we're not talking about some anti-climactic olympic torch-lighting ceremony. This was real fire, giving off the kind of heat that can scorch not only the eyes, but the mind. Yet, like insects to the flames, there was no such thing as "too close".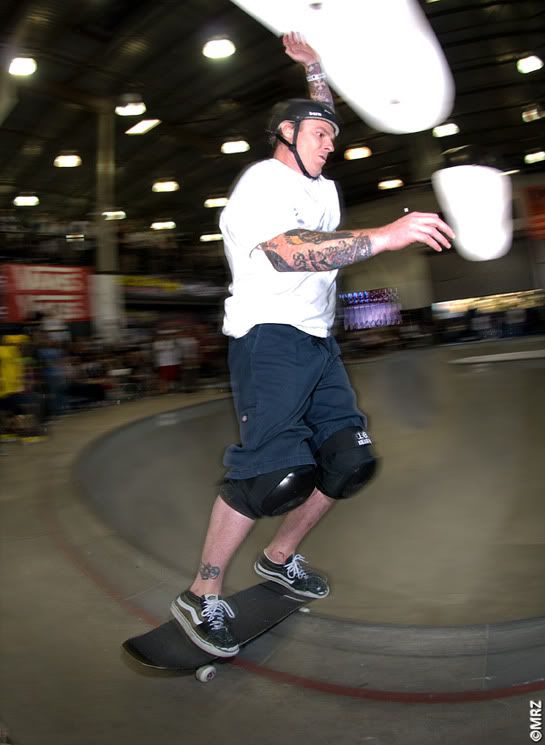 Grosso recovered from this moment of sketch during his 28 blocker, he's just that good. And yes doubting Thomas, this is the actual winning slider.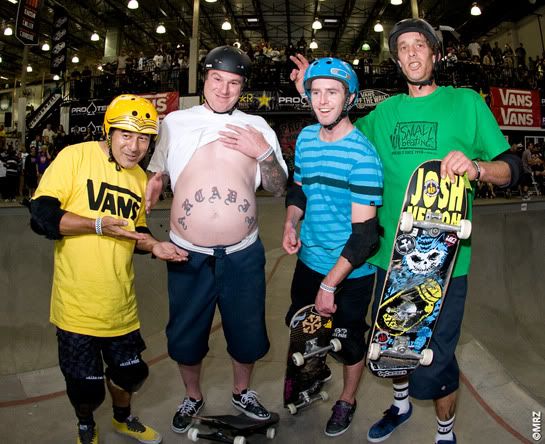 Bucks for Blocks champs, Cab, Grosso, Beck, and Nelson.
Van Doren's Bucks For Blocks Goes Bonkers.
If were were still in 1980, and event such as this might offer a reward of say, 10 bucks per block. Welcome to 2010, in which there is actually some real money on the line for professional skateboarders. In addition to enhancing the overall purse of the Protec Pool Party this year to over $100,000, Steve Van Doren put an individual $100 price tag on each block for the winner of this event. I overheard a bit of grousing about a grind and boardslide contest being a bit boring and that a high air event should take its place. But even the most jaded of us had to have had a change of opinion after witnessing Jeff Grosso's performance. For the last 2 years, Jeff has missed the entire event due to injury and many have said that this side event has always been his for the taking. Sure, Jeff could have taken the easy way out and gone for a 50-50 as he is known to transit nearly the entire round bowl with his trucks destroying the coping, but for him, it had to be a boardslide rock and roll. Caballero went head to head with Grosso, with both guys clocking in around the 15 block mark. That is, until Jeff defied gravity, logic, and a few other foes to lay down a 28 block slider. I think it's fairly safe to say that nobody is going to get anywhere near that mark, any time soon. Watch the video replay and be simply amazed. Jeff earned $2800 bucks and some very serious bragging rights he will not exercise, simply because he doesn't need to. Cab took home $300 for his 15-blocker. In the trucker categories, Nathan Beck of Australia stood on a spark-spewing frontside 5-0 for 14 blocks to net $100, and Josh Nelson grabbed $100 for his whopping 15 block feeble grind. I'm sorry but if you think that is boring, get a life.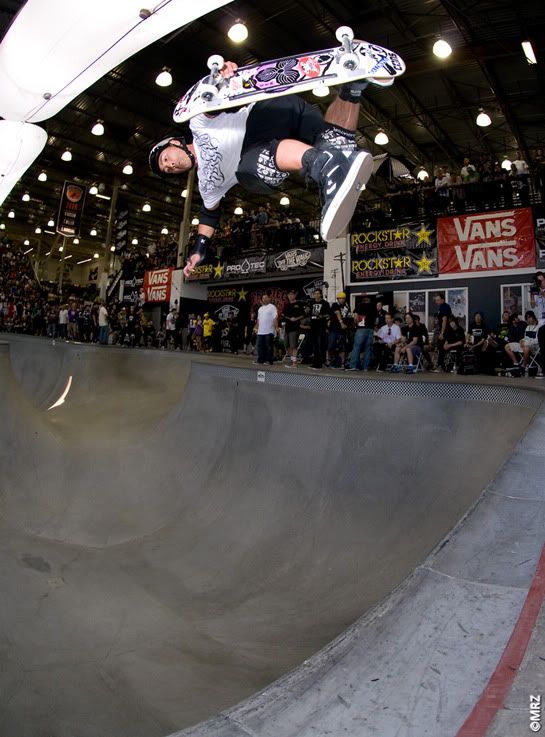 Lester Kasai, martialing arts.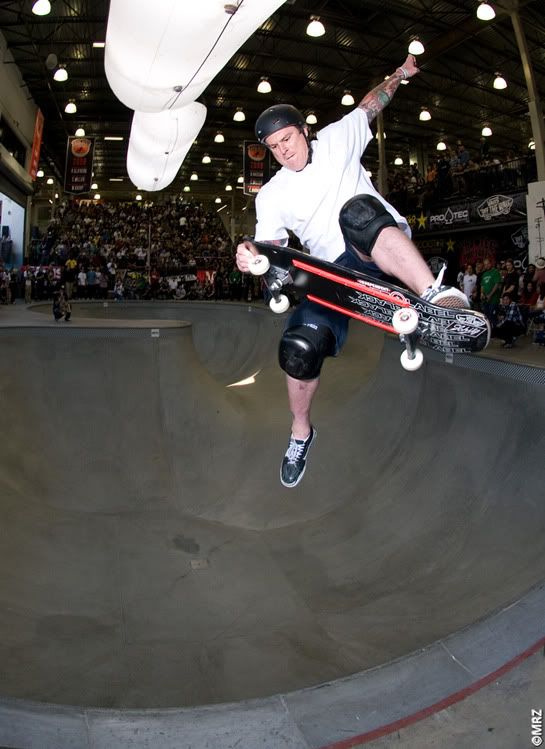 Jeff Grosso, mid-madonna during a run for the history books.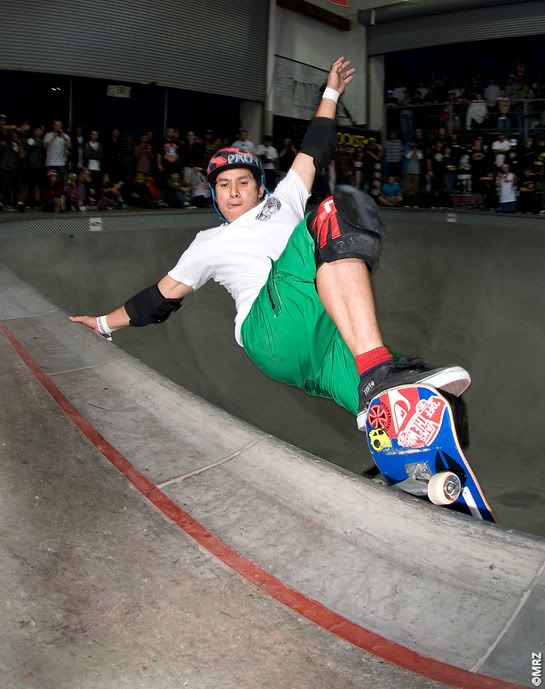 Christian Hosoi has more style in his pinkie toe than most have in their entire body. Classic layback slash.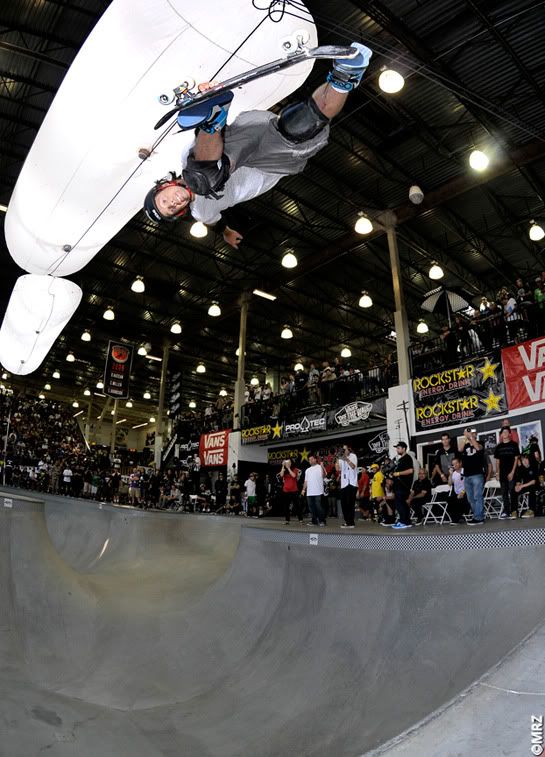 Tony Mag put together several solid aerial assaults.
A Master Is Exactly That.
The question has always been, who is going to win 2nd place. For 5 years Chris Miller has had a deathgrip on the Masters title here. Terms like "invincible", "unbeatable", and "too good", have always been the descriptors that were applied. If Miller wasn't the humble guy that he is, you might think he bought into his own hype, but that's simply not the case. At any rate, during the Masters' qualifying heats, many in attendance were of the mind that Chris would defend his title with at least a small amount of ease. On the road to the final cut of 10 riders, the difference between in and out was slimmer than it's ever been, due to the fact that the level of skating rose dramatically. Most notably, guys like Lester Kasai, Eric Nash, Duane Peters, and Lance Mountain were skating as if they are getting younger while the rest of us get older. I'm hoping that anyone who thinks watching a "bunch of old dudes" is somehow unsatisfying, witnessed this and realized that is simply untrue. In fact if you still have any doubts, go watch a replay. Also, It should be noted that 2 of my favorite riders in the Masters' division had to have been cancer survivor, big Mike Rogers and Cara-Beth Burnside. In the absence of a Ladies' division this year, Cara-Beth was invited to join her male counterparts and finished 13th in front of some of the biggest and baddest legends of skateboarding. Mike Rogers is one of the best human beings ever to ride a skateboard and just seeing him roll anywhere with that big grin on his face makes my day, every time.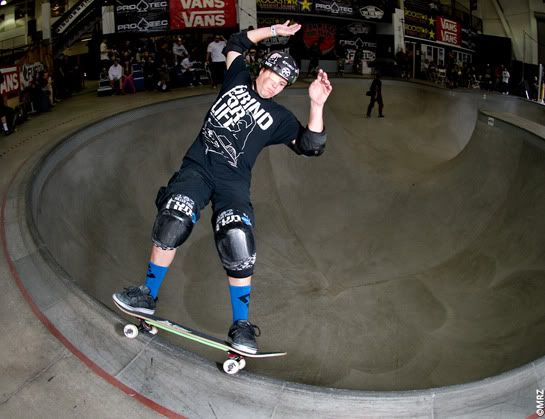 Mike Rogers is a bigger hero to me than Robin Hood could ever be.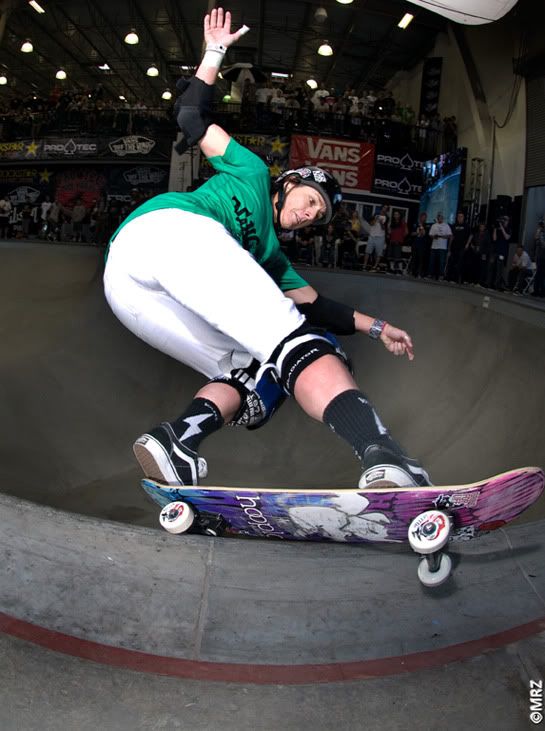 Cara-Beth hauling through a textbook feeble grind.
The final cut came down to Lester Kasai, Jeff Grosso, Christian Hosoi, Tony Mag, Eric Nash, Duane Peters, Nicky Guerrero, Lance Mountain, Chris Miller, and Steve Caballero. Once the list was complete I offered up wagers to some key gambling types. No takers. It seems that those who would "never bet against Miller" got cold feet when confronted with a crisp 20 laid down on the Likes of Lance or Cab, or Hosoi. Maybe it's the economy? Lester rode hard, hanging on to stuff that most would throw away. An arm injury took him out before the end of the final, and he wound up in 10th. I'm proud to be able to say that Jeff Grosso is my friend. He told me after making the cut, that there was "nothing to do now but kill myself". If he were anyone else, his initial "make it or die trying" acid drop on the peninsula to body slam would have meant a body bag. Jeff continued though, and ripped his way to 9th. 8th place was where Christian Hosoi wound up. He was one of the threats I was backing to beat Miller, but a nasty bout of the stomach flu got the better of him. Most people would have stayed in bed, but Christian skated hard, even throwing up a couple of 540 attempts in the closing seconds, and had he been given a few extra seconds, he would have made one, especially with Grosso hurling one to push him on. Tony Mag took 7th with a deeper bag than in previous years, and managed to quiet down some of his harshest critics. Eric Nash has apparently discovered some sort of age-reversal process. Nash took 6th place with some of the best skating we've seen out of him yet, big airs, inverts, lip tricks, and effortless speed lines. I could have seen Nash taking a top 4 spot with ease.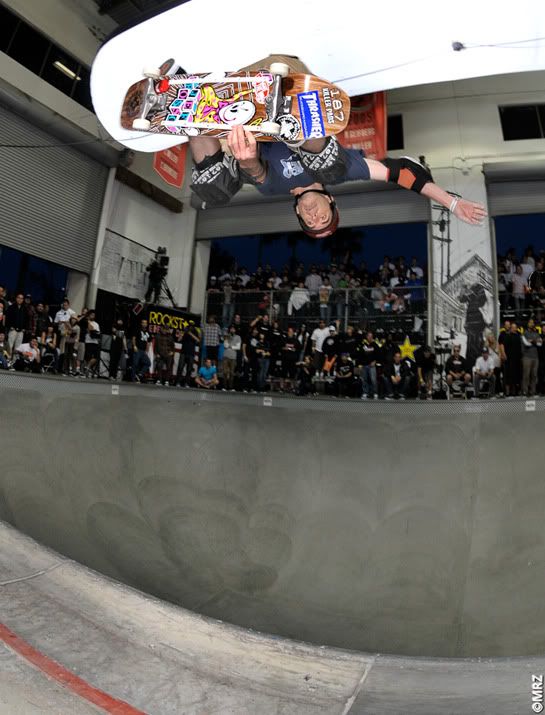 Eric Nash, huge indy air with perfect form.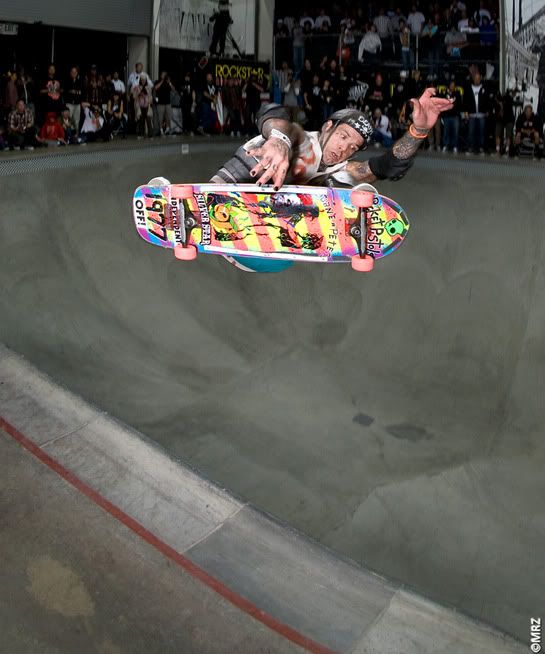 Duane Peters, earlier release frontside air. Murder on wheels!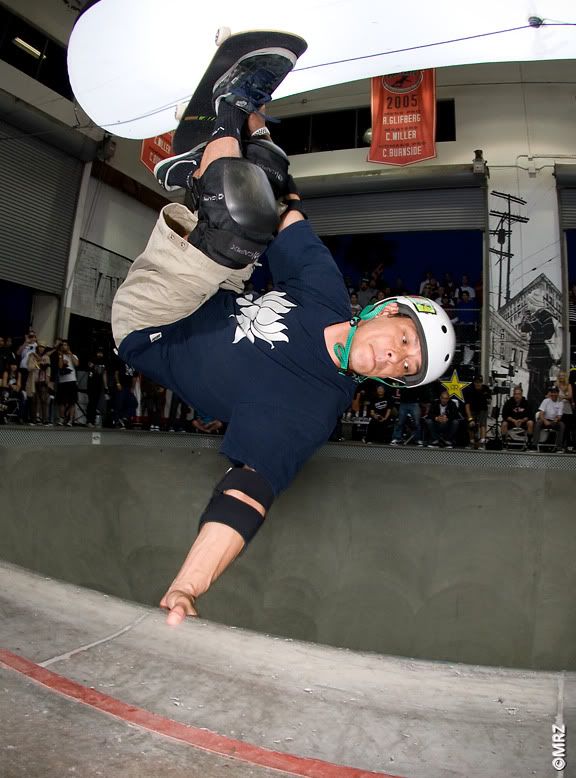 Another solid year for Nicky Guerrero. Frontal invert.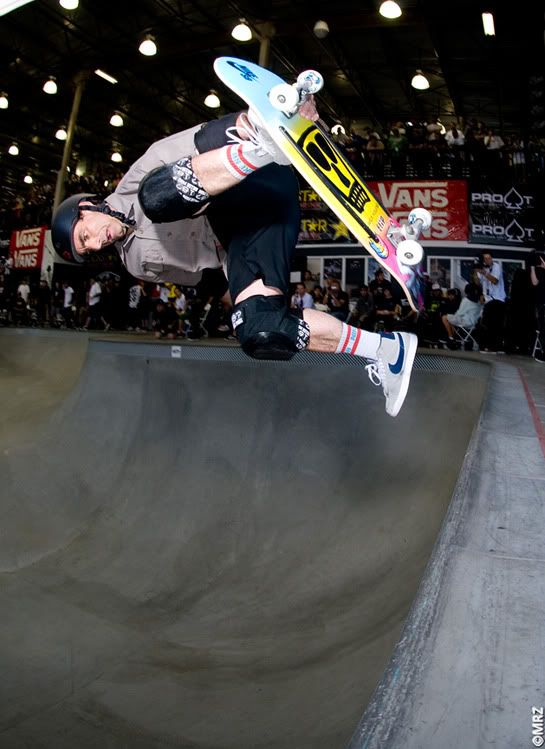 Lance Mountain. Fastplant.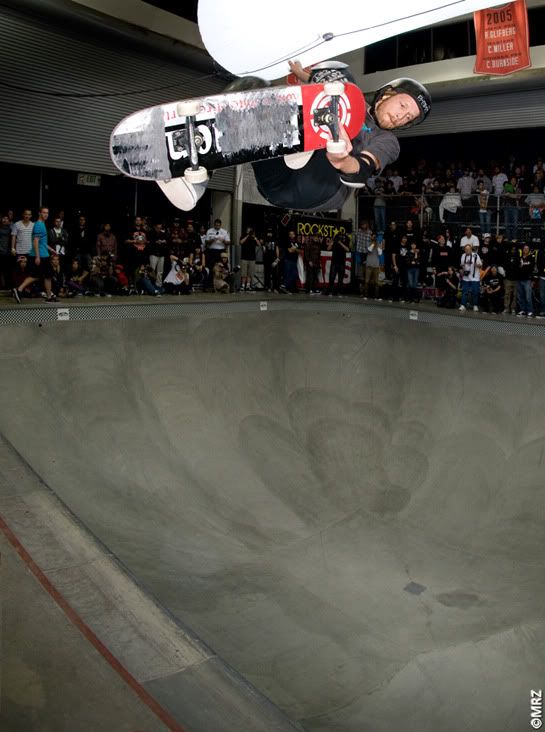 To the surprise of all, Chris Miller came up just short, but not for lack of power and style. Huge lien air.
In the years that Duane Peters has made a showing at the Pool Party, we've all been treated to some of the most edgy skating ever witnessed by human eyes. Take for example his decked frontside rocks in the square, which certainly must have nearly blown Eddie Elguera off of his perch in the bleachers. Duane pulled out everything he had and often stayed on through sheer will and punk-ness. DP took home the 5 spot. 4th Nicky Guerrero made an impressive showing once again, bringing new and old school vert moves together in some blistering runs, mirroring Nash's skillset and appearing equally youthful. The top 3 was a literally a dogfight. Lance Mountain was on a mission. After all of his hard work on the re-building of the Combi, he still had work to do in the contest. During his shift in the Masters' final, Lance excelled, often throwing up huge airs, possibly bigger than any he has ever done. Lance was the guy I kept trying to bet on, but nobody would take my money. Lance took 3rd, and got the crowd going almost more than any other rider. Normally Miller occupies a room unto himself, one which features a locked door to which only he has the key. But something was different this year. During the final, most assumed that Miller would do what Miller does, and leave everyone else out in the cold. Perhaps he hadn't counted on Steve Caballero coming in and having a few "runs of a lifetime". And what nobody expected was that Chris wouldn't complete each of his lines flawlessly. Even if he had, it may not have been enough to beat Cab. Steve was just that good this year. So call it the upset of the decade, if you like. Chris Miller has been de-throned by Steve Caballero.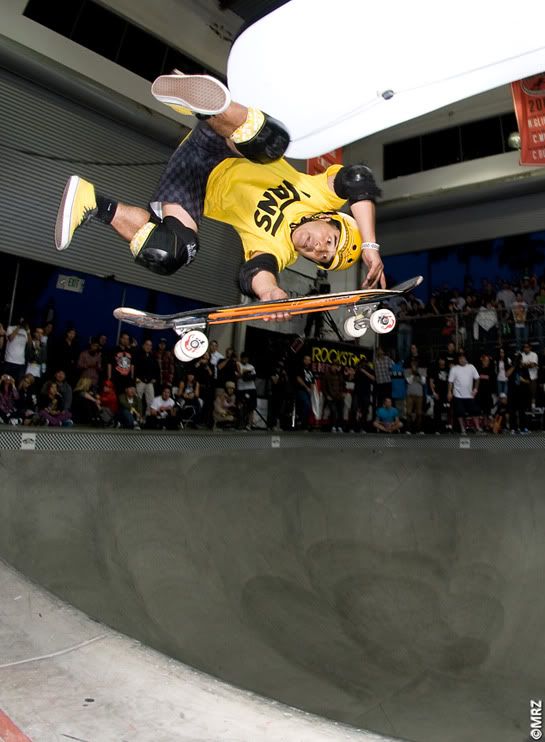 Steve Caballero's kickflip Indy, smoother than grease.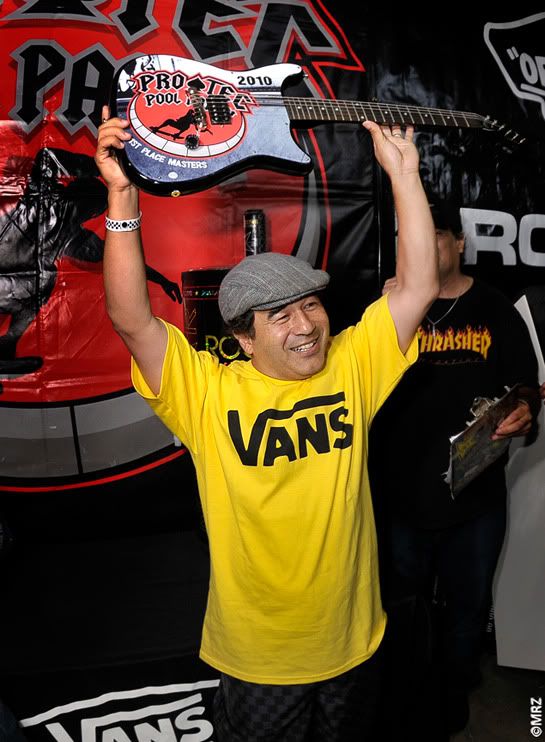 Parting shot: Cab, victor and upsetter, feeling the moment.
To be continued in Part 2, the pro division wrap up...
-BLKPRJKT