PRO-TEC Pool Party 2010 / Getting ready to burn down the house
Posted 05/10/2010 09:06:00 by
i am vans
If you've been down at the Vans Combi Pool over the past 2 weeks or so, you might have been catching the vapors. You can almost smell smoke. Things are getting hot once again, and you might want to check the temperature of that door before you fling it open. Fire safety, kids. Stop. Drop. Roll.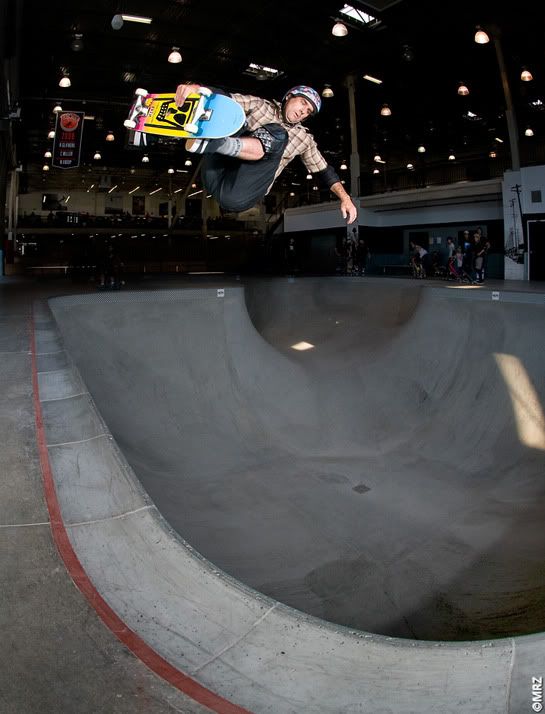 Lance Mountain knows how to start fires, this corner air will burn two walls with one match.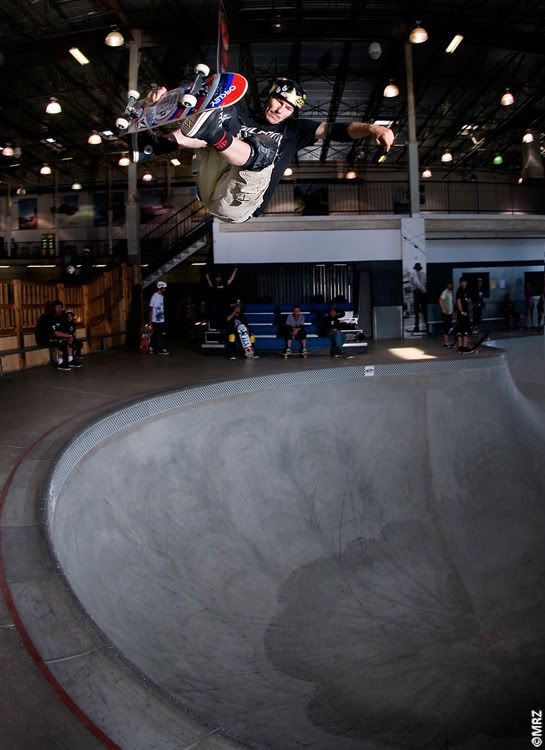 Previous champion Rune Glifberg runs on high-test fuels.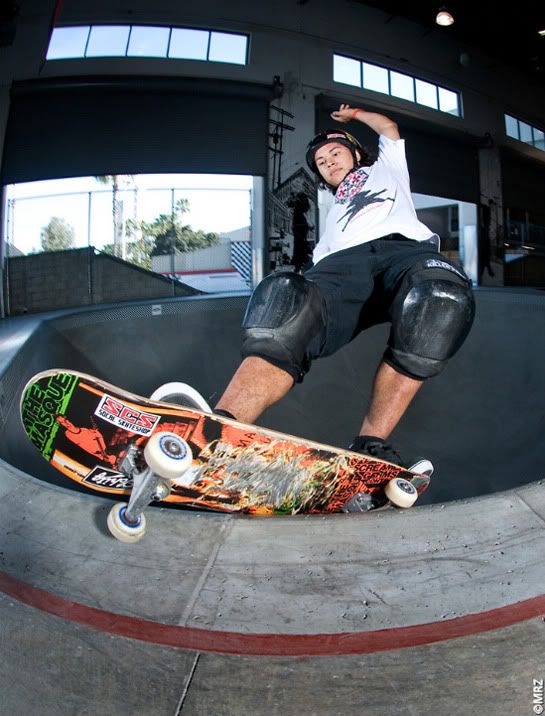 Young gun Josh Rodriguez made the finals last year, and he's ready to incinerate things again this year.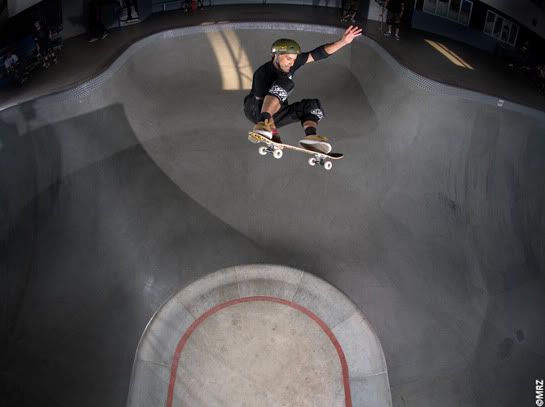 Omar Hassan always has a pocket full of wind-proof matches.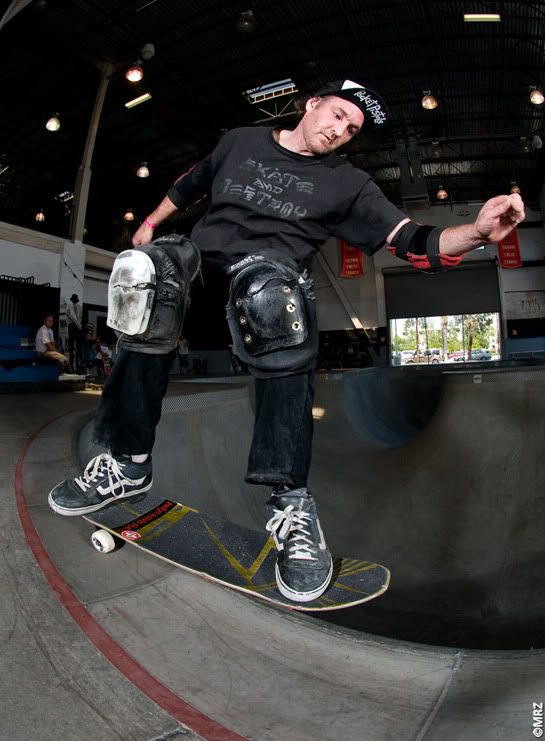 Big Ben Shroeder is notorious for being a firestarter.
It's getting to be that time again. ProTec Pool Party time. You almost forgot about it? Naw. But it's easy to crawl under a rock and grow absent-minded about the annual Combi conflagration that scorches eyes and minds. Here's how it works: For 9 months following the previous year's event, everybody talks about what happened last year. Then the talk drops off. Then a month of relative quiet sets in. And like clockwork, 2 months before the coming event, the speculative talk takes over in earnest. Who's in. Who's out. Who's hot. Who's not. This year, the talk has also been heavy regarding the several changes this year that will, in the words of the legendary Jeff Grosso, "Give this event a brand-new juice card". If you've been really deep under that rock, you may not be aware that the Combi Pool is entirely new. Not just an acid bath and a coating of coping grease, but Steve Van Doren shelled out a huge chunk of change and had the pool completely re-built. Even at the first session, the performance levels were rising for all of the riders. No more kinks, no more ice rink conditions, no more channel, high-speed custom coping. You can read up on all of the intimate details over at my home base, concrete disciples dot com. Steve is also playing Santa Claus this year by kicking the total prize purse up to over $102,000. I don't know about you, but that seems like a pretty decent payday to me.
Josh Borden has been steadily turning up the thermostat. Stalefish.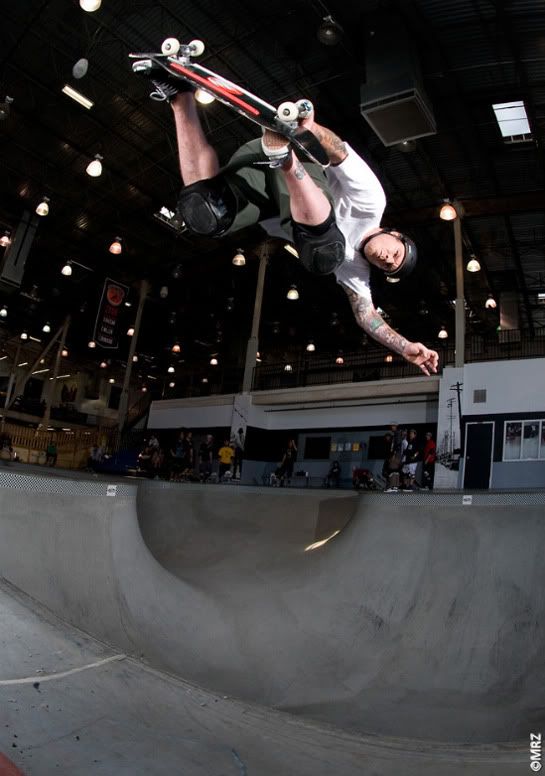 Grosso burning top fuel.
A couple of other things are different too. The ladies division has been scrapped, and the number of qualified riders for the pro and masters divisions has been slimmed down. Worry not, on that last point though. This isn't turning into some boring doo-x-tourgames stunt demo. The formatting changes should provide for a more streamlined event with some of the heaviest skating ever witnessed. Guys will be fresher for their heats and the finals and the energy level is going to be off the charts. Think of it this way: Higher octane, bigger fire. And you don't need to buy as much. If you've ever done arson for hire, you know that 104 octane racing fuel gets 'er done, but 87 sputters and fizzles. You also know that paper matches will retain identifiable epithelial DNA while strike anywhere wood matches burn away entirely.
Lincoln Ueda in flames.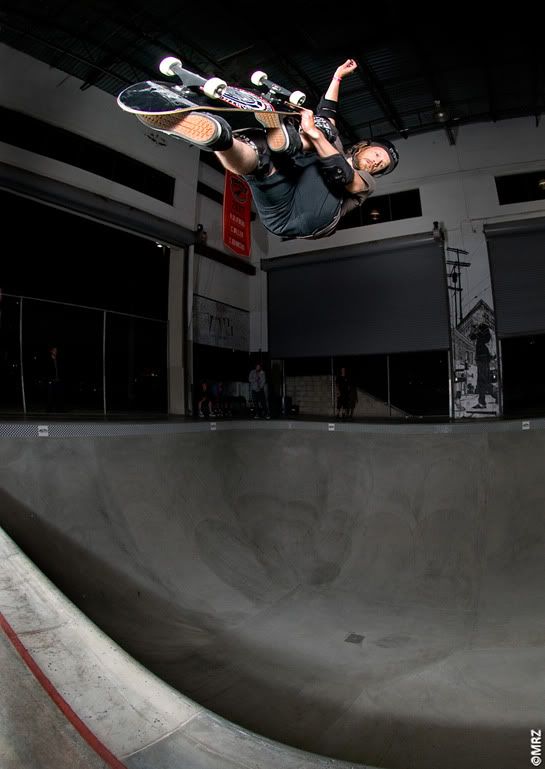 Chris Miller. He has burned everyone up, 5 years running.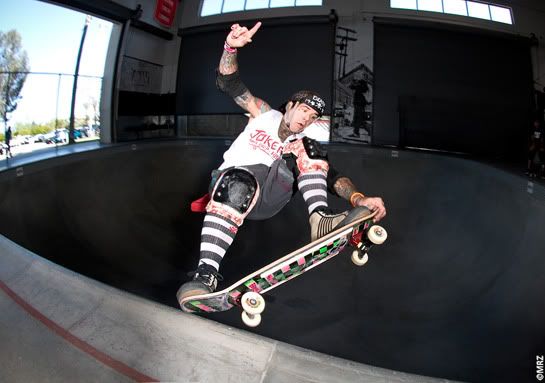 Duane Peters. A rolling inferno.
Hotshoe Michael Brookman.
Reigning champion Bucky Lasek on the compression stroke.
Ever notice that wildfires in exclusive neighborhoods make for beautiful sunsets? Something to do with those big LCD tv's, chihuahuas, and gucci loafers, all going up in flames and distributing airborne particulates. The UV radiation reaching your retinas through the fume plume is given a cozy tint. There's also that added bonus of live chaos on television and the internet, at least on the televisions and computers that aren't burning up. Live chaos is pretty much what it's all about. The more the better. Even if you're not one of the lucky thousand or so people surrounding the Vans Combi Pool come May 21st, you'll be able to get all of the real-time mayhem right here on vans.com. Coming up in the next update we'll have a gang of fresh photos, the preliminary riders' lists, and the usual precognition forays. That means predictions and predilections. Stay tuned. Burn, OC, burn.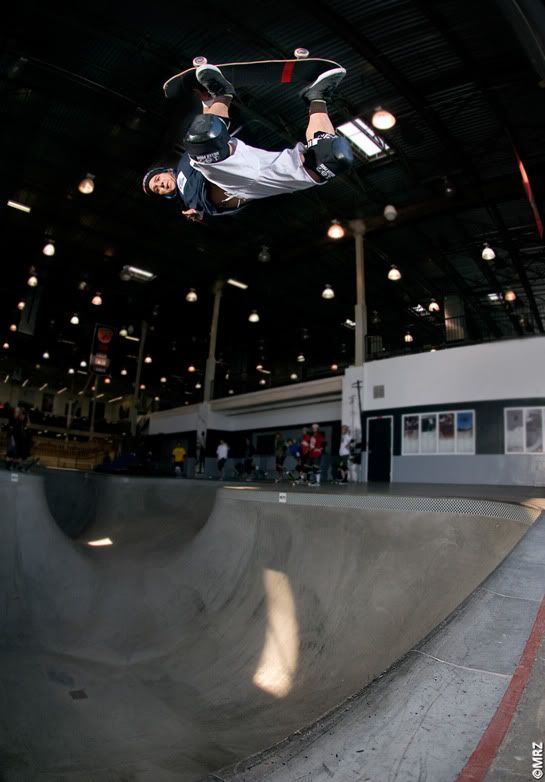 Parting shot: Christian Hosoi throwing molotov cocktail.
GET HOT!!!
-BLKPRJKT