Friday Night's alright for fighting...
Posted 09/26/2009 12:56:00 by
i am vans
Starting point: John Lucero in a prison of his own design.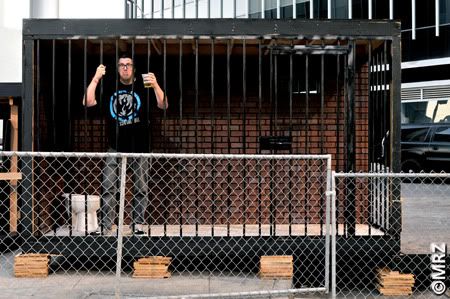 I've been thinking about Corey Duffel. You see, a few years back, Corey brought the house down at this thing. The Element team had designed an obstacle that looked for all the world as if it were built simply to showcase the stair, rail, and gap skills of young Nyjah Huston. And while Nyjah made a pretty amazing showing, it was Corey Duffel who really just blew everyone out of the water. Not just on the Element set-up, but he pretty much handled all of them and dominated. Not what anybody expected, and exactly what everyone needed. Look for the dark horse. It might be Corey again, or it could be Sierra Fellers. How about Nick Merlino? Is David Gonzales going to follow up his epic part in Extremely Sorry by blowing everyone out? Zered Basset is in town, as well as a large group of ams and new pros. Any way you want to look at it, this is anyone's opportunity to stand out, and it's going to be raw. Expect the unexpected and you won't be disappointed.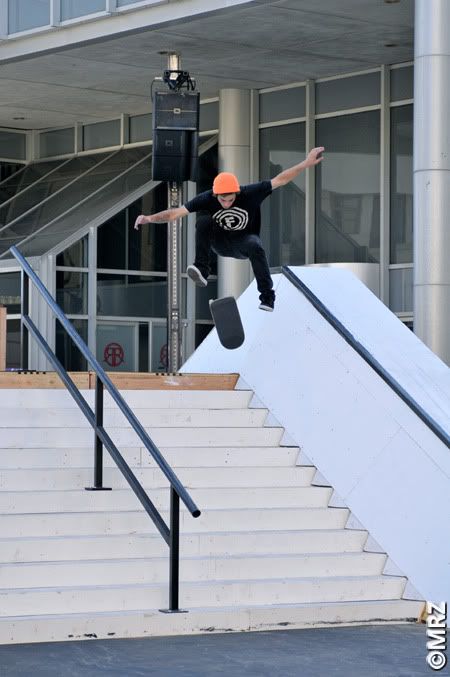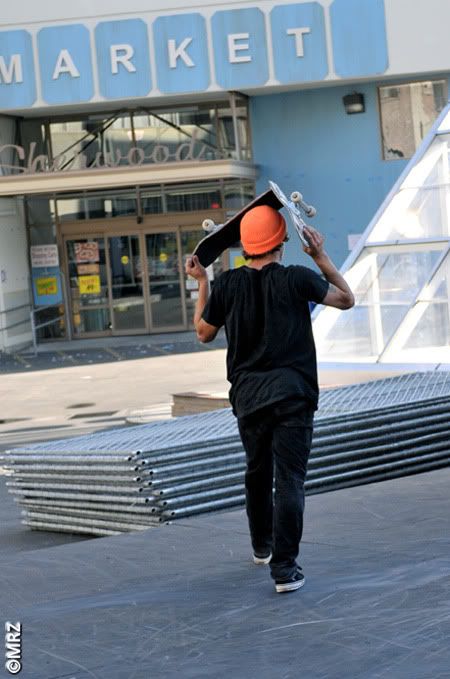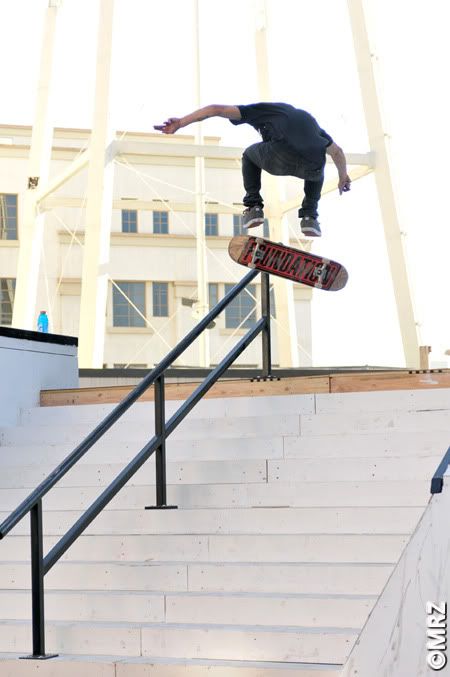 The course and rosters are set. As you most likely read already, some of the hardest-hitting crews are tuned up and ready to go at it tomorrow and take no prisoners... well except for Black Label. Originally Duane Peters was slated to cool his heels in the 12-step failure penalty box/prison cell, but DP shined his team manager/probation officer Lt. Lucero and fled for the Tim Brauch memorial contest in SJ. This brings us to the descriptions of each of the 4 obstacles and the teams behind them. Lucero and his band of lunatics over at the Label opted for a 12-stair(or step) program, complete with a center rail, ledge out and a slam-jam banked ledge. Beneath the ledge out is the aforementioned holding cell where any manner of criminal may find themselves locked away at some point tomorrow.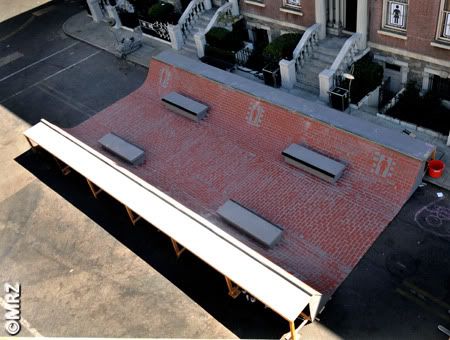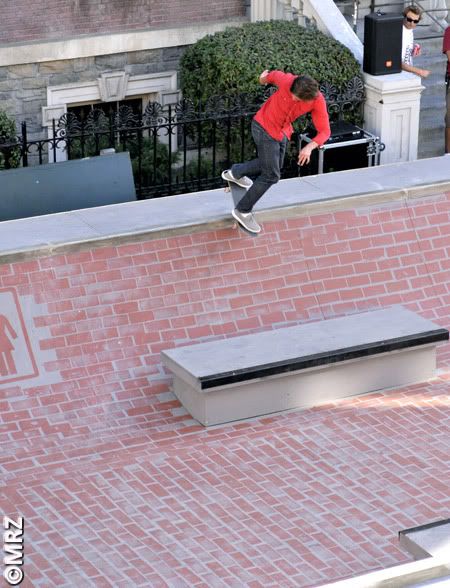 Just around the corner, the Girl crew and their penchant for replicating iconic skateboarding terrain have come through with what you may end up referring to as "big trouble in little china". A truncated copy of SF's infamous China Banks, complete with ankle-threatening benches and a slightly tamer concrete ledge, sans the wheel-grabber gap. Mike Carroll was on location scrutinizing this structure with a very experienced eye, as BA, Olson and Malto got right down to the strict abuse. Rumor has it that a few cantonese imports may be idling about in the banks, feeding pigeons and playing mah-jong on the benches as the action kicks in, lending authenticity to the scene.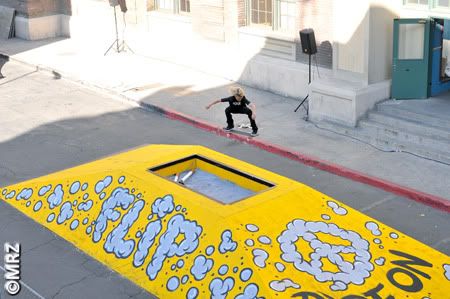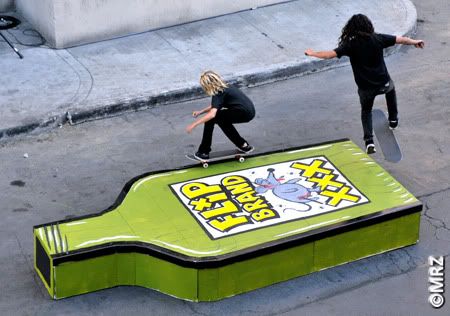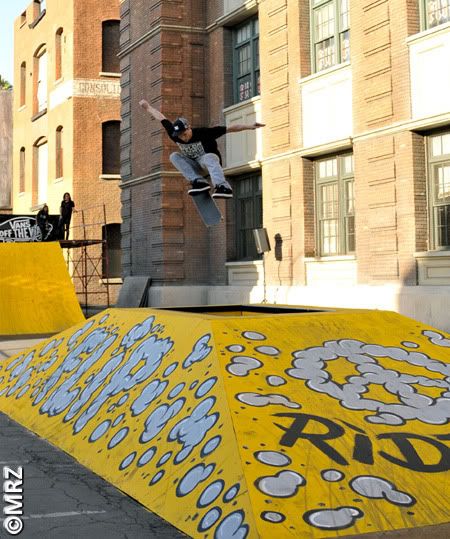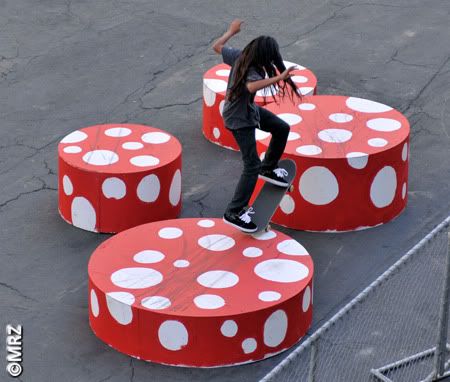 Uptown, the FLiP squad scored the slight grade leading downhill towards their centerpiece, a truncated pyramid with a lengthy deck which is mostly a large pit with metal edges. A big banked kicker serves as the set up and youngsters Curren Caples and Louie Lopez were giving a tutorial on how to easily clear the entire top side. After coming in full speed on the down slope of the pyramid, riders are faced with a choice between some oddly shaped shrooms, or a box in the form of a bottle of bathtub gin. Name your poison perhaps? At any rate, Rowley and the whole FLiP contingent are looking to follow their video premiere with some out of control ripping.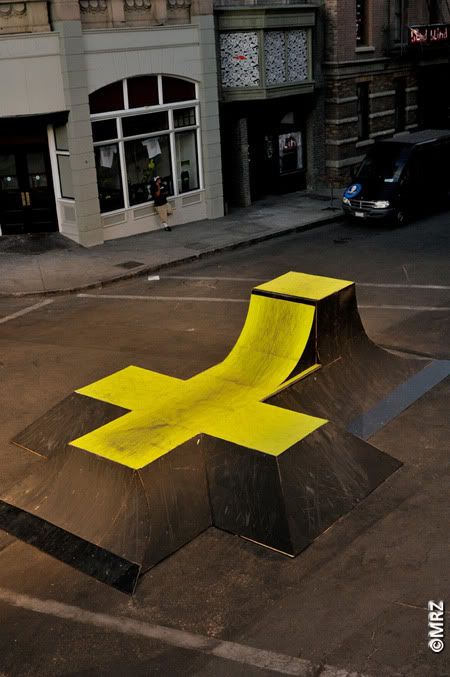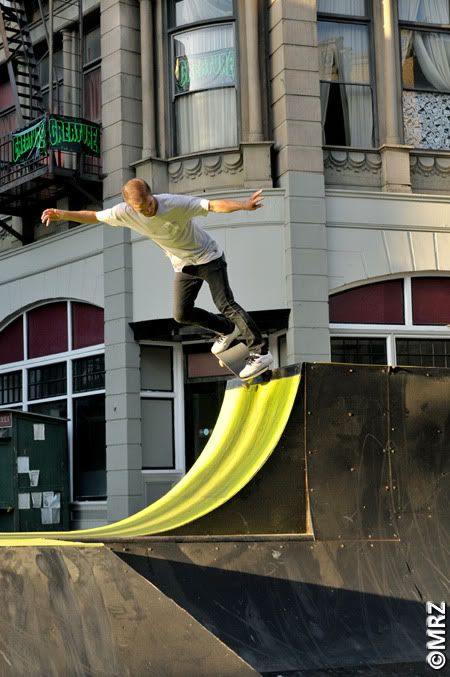 The 4th and final mincemeat maker comes to you courtesy of Creature. 2 years ago, their obstacle scalped Omar Hassan, and lumped up Stu Graham. Almost a fluke entry originally, Creature has become the team that is a must-have at the Downtown Showdown, a mainstay of what makes this event great. The element of danger and darkness that is mandatory. Their brand of blackdeathmetalmayhem this year has resulted in what looks like what happens when you blend a crucifix, a coffin, and a dissected mini ramp. You may just witness the bowels of hell open right up and swallow a few of skateboarding's finest come tomorrow afternoon.
We've thrown in just a few teasers here, but tomorrow is really when the heat gets turned up and the floodgates are going to burst wide open. Stay tuned. Carcass tosses, Peking ducks, leaps of faith, and satanic rituals... we're going to have all that and a lot more. Look for a morning briefing here and get ready for another heavy Showdown.
-BLKPRJKT