2008 ProTec Pool Party / Pro division wrap-up
Posted 05/21/2008 01:23:00 by
i am vans
A week before it all came down, a lot of people were expressing some mild doubts as to whether this year's Pool Party could or would live up to, or surpass the previous years' battles. The 4th year in, things seemed quieter. Of course this was before it got underway. People will make all kinds of assumptions based on rumors. But for anyone doubting the severity and intensity the 4th annual Pool Party might carry with it, those doubts were washed away from the opening moments of the pro qualifying heats. 3 heats of 8 men laid waste to the bowls, in true Texas Death Match fashion. Heavy shots were being fired and no holds were barred. MC Duncan is fond saying that every heat is a lot like a final and he's not kidding. Even the youngsters were seriously scrapping for the hole shot and a few of them looked like they might just pull it off. 14 year old Morgan Burgess was so dialed in, he had no hesitation going up against guys twice his age and 3 times his size. Unfortunately for Morgan, after he landed a 540, the Combi exacted it's revenge. Morgan broke his wrist badly and was unable to continue. 15 year old Michael O'Friel had come a long way in just one short year, and while he might not have made the cut to the final, he skated runs which blended technical modern vert moves with a hearty blend of old school pool gnar. 15 year old Nolan Munroe swooped in from New Hampshire and hucked a strong air game with varial variations and tossed in some blunts just to cement his run for the finals. 18 year old Adam Taylor, in his Pool Party debut, had the fire in his eye and used the airspace around the Combi to his advantage in an impressive display of vertical control tactics. Both of these youthful monsters battled their way right into the final 10 spots.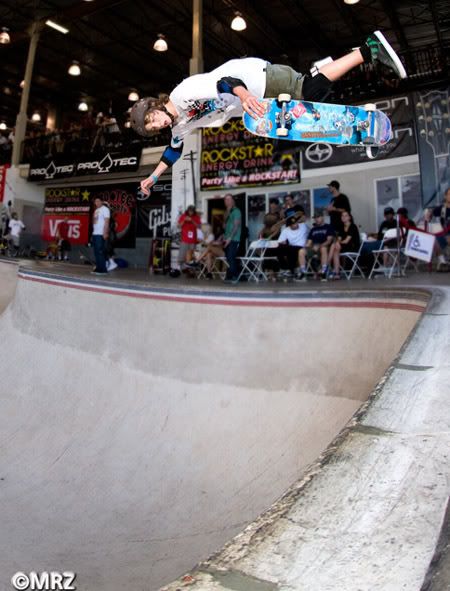 Nolan Munroe kicks out.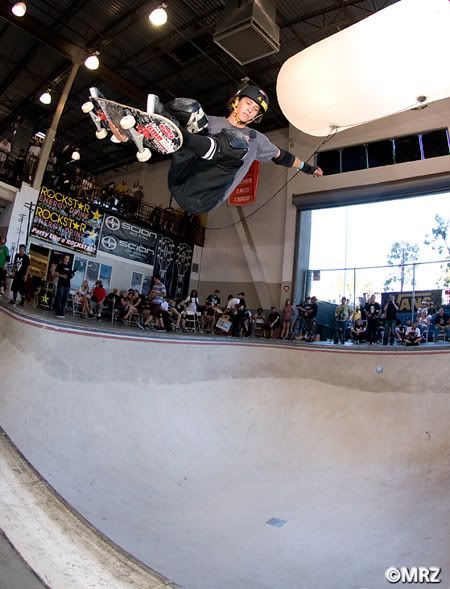 Adam Taylor. Stale.
An honorable mention should go out to a couple of heads who narrowly missed the cut. There can only be ten. That's just how it works. That said, you might consider one Tim Johnson and his ridiculous stale fish from mid face wall in the square all the way past the corner and into the sidewall. Darin "Cookiehead" Jenkins reeled in some airs in the 9 foot+ range, and Lincoln Ueda put his body jars into that same rarified atmosphere.
Big Tim Johnson goes coast to coast.
So it came down to the final 10, and there was not an empty seat in the house when the rumble was ready to begin. It came as no surprise that Rune Glifberg, Omar Hassan, and Bucky Lasek had qualified first in each of their respective heats. After all, Rune and Omar have both won this thing, and last year Bucky came pretty damned close. Sergie Ventura, Bob Burnquist, Benji Galloway, Nolan Munroe, Bruno Passos, Joshua Borden, and Adam Taylor rounded out the roster. Right around the time the Pro final warmup was winding down, Sergie Ventura took it upon himself to attempt the elusive transfer from the square to the round, over the jutting hip. A few heavies have tried this stunt and come away empty handed, but Sergie wasn't about to walk away from the challenge. After about 5 attempts, Sergie stuck it cleanly and the house came down. This was the first indication that, yes indeed, this year was about to close with a 500 megaton blast.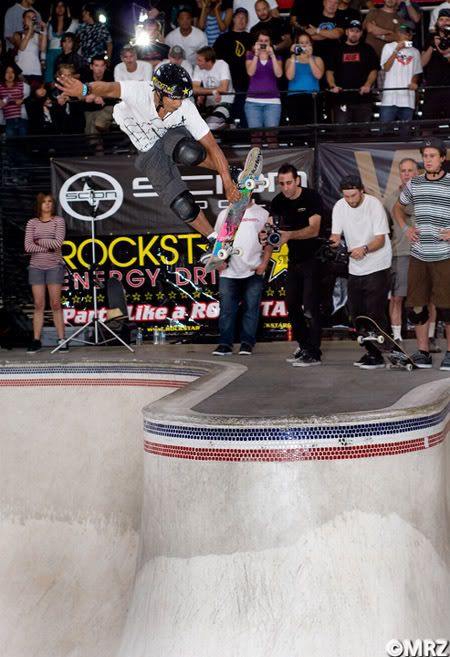 Sergie's leap of faith.
The Pro final began with a series of intro runs, after which, the jam would commence. All you really need to know about the intro runs is that Omar Hassan skated a first run of nearly 2 minutes. It was an epic display of Omar's dominance over this pool, and a warning shot to all comers. The problem is, when you offer up that sort of bravado in this company, people are going to come after you and they did, with everything they had. Adam Taylor was ready for the challenge and he ramped up his performance for the final jam with Huge lien and stale fish airs, some drifted Indy nosebones and powerful corner airs. Adam wound up in 10th place, which was quite impressive for a first year competitor. Nolan Munroe launched an all-out attack with tricks no one else was bringing. Aside from his solid air game, Nolan launched huge varial lien airs over the hip from the square into the saddle and carried enough speed to drive home big backside airs in the round. Nolan finished in 9th and will likely be taking higher spots in years to come. Josh Borden is always a threat, especially with the confidence that he carries. That confidence allowed Josh to hurl massive 540's in traffic in the square with no hesitation. His regular sessions in the Combi have honed his lines to a degree that sooner or later he may just take this thing. Josh barged his way into 8th and once again left his mark in the final. There's always one or two guys who just skate way faster than everybody else. Bruno Passos just so happens to be that guy. High speed roll-ins into the square to huge 5-0 reverts through the corner, big airs, long Smiths and Feebles, and all with that cheerful Brazilian flair. Bruno throttled his way into 7th place money without running out of gas. 6th place was handled by Sergie Ventura with ease. Sergie employed his standard high-flying act and when traffic got heavy in the bowls below him, he just went higher with more hang time allowing the crowd to get out of his way. Most of Sergie's airs were in the 8-9 foot range and looked effortless.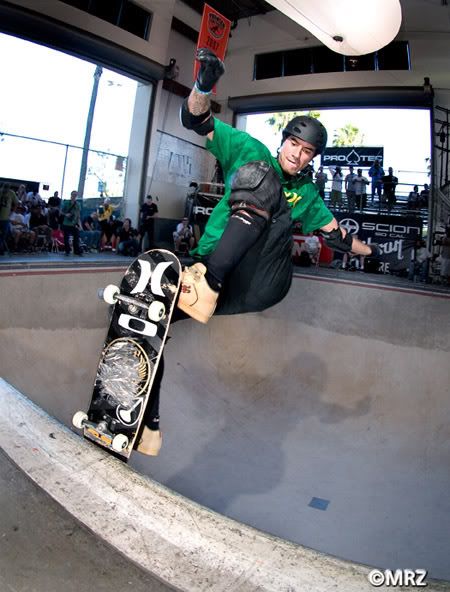 Bob. Front Blunt.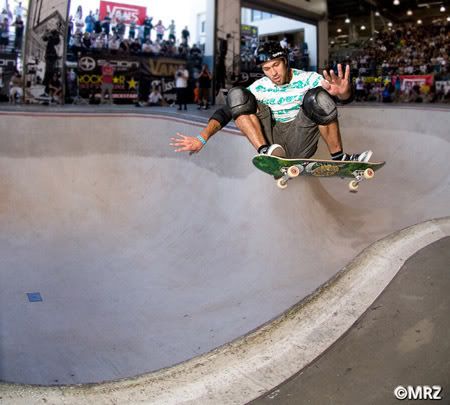 Bruno Passos. Ollie.
As far as the top 5 were concerned, any one of these guys could walk away with the title. This is a reality which is repeatedly driven home throughout the year at other venues. The right guy on the right day with the right stuff. Benji Galloway has been the right guy too many times to count. Benji often finishes the year at the top of the WCS points rankings, and this year will likely be no different. Benji twirled up eggplant and frontside invert reverts, mach 10 frontside rocks slides through the corners, smooth stylish airs, and inverts off of the center hip. Benji helped himself to 5th place and several points to boot. Bob Burnquist is confusing. It has become increasingly difficult to tell which way he's going, let alone what the heck it is that he is doing. Equally confusing is Bob's ability to stay on and make tricks when his body is twisted into some intentionally contorted verge of destruction. Switch roll-ins, frontside rodeo 540's, huge ollies, switch nose grinds, and ridiculous things like a frontside 50-50 through the corner to revert. Bob wound his slinky-like self into 4th place and quite a few dollars as well. A photographer was overheard saying he considered betting his house on Bucky Lasek to win it all. Based on what we all witnessed in qualifying I might not have bet against him. Bucky's set up line into his runs consisted of this: 7 foot+ method to fakie in the round, gay twist over the hip into the square where he then fired off a backside 540 and frontside 540 in sequence. Those were just his first 4 walls. What else did Bucky do? A better question might be what DIDN'T Bucky do? The answer is not much. Method to fakie and switch frontside airs through the corners, insanely long back tailslides, and a bunch of flip-in, flip-out stuff that is indescribable. Bucky was looking to take it all down, and had he been able to string just a bit more of his sheer genius together into longer runs, he would have done it with ease. Bucky cranked hard, directly into 3rd place.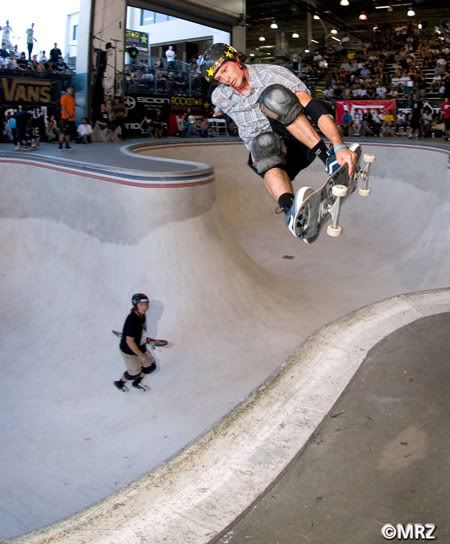 Bucky, gay twist over the hip.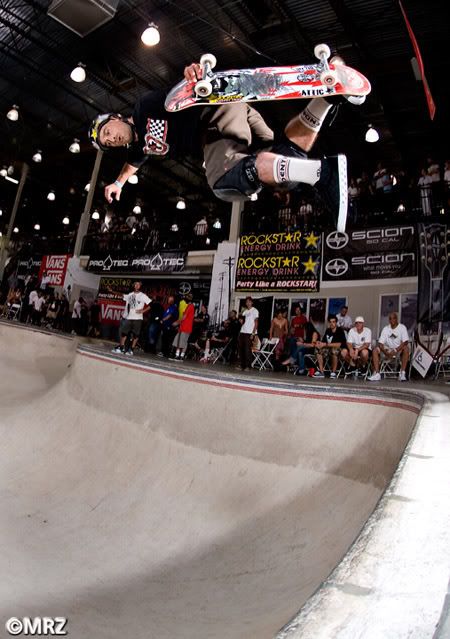 Omar Hassan.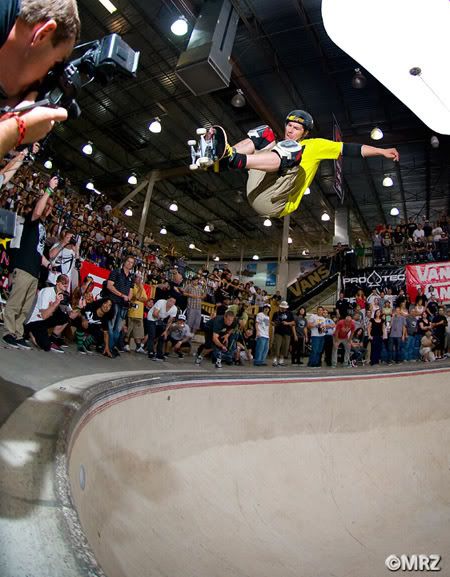 Rune giving it the gas.
Omar Hassan and Rune Glifberg have had a 2 man battle going every year for the Pool Party title. Rune had 2 previous wins under his belt, and Omar had one. In a way it is seemingly impossible to judge these 2 guys. It's kind of like trying to judge a battle of the bands between Metallica and Slayer. Both of them are going to rock you so hard, you'll have a hard time picking up the pieces of your ruptured brain to try and make a cognitive selection. And just like the 3 previous years, the final came down to these 2. Omar could probably skate the Combi blindfolded. He knows every inch of it like the back of his hand, yet he continues to find new ways to abuse. Omar's attack consisted of a wide array of airs, 540's, mayhem punctuated by lip mastery and and infinite variety of lines. Omar probably laid down more tricks in 30 minutes than most skaters make in a lifetime. Rune has a way turning the volume up higher than the knob will allow and if that's not loud enough, he'll just crank it up until your eyes bleed. Rune's years of vert ramp dominance adapted naturally to the Combi and his runs consisted of 540's, kickflips, huge tailgrabs, blunts and whopping Madonnas. It looked almost entirely too close to call with time running out and Rune seemed to sense this. 2 tricks thrown down in the final seconds iced the cake. First it was the backside tailslide through the corner to a late shove-it. Moments later an absurd alley-oop kickflip out of the square and over the hip into the saddle. As Jeff Grosso put it, Rune stole it from Omar's grasp right then and there, via "punk points". And so it was that Rune narrowly beat out Omar for the 2008 pro crown. There is no doubt that this is the most intense skating event of the year, and next year will only be even more heavy.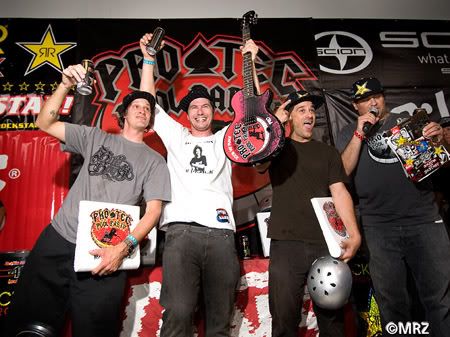 True champions.
-BLKPRJKT