2008 ProTec Pool Party / Masters' division wrap-up
Posted 05/19/2008 09:47:00 by
i am vans
Every year at this thing, there is a side story, and each division has it's own unique twist. For the Masters' division at this year's Pool Party, pre-event injuries changed the complexion of things significantly. Prior to Saturday, no less than 4 of the top Masters' competitors were scratched from the line up due to injury. Steve Alba went down with a severe leg injury, as did Lance Mountain. Jeff Grosso was looking to once again take a shot at de-throning Chris Miller after missing last year's event with knee surgery, but less than 2 weeks before the event, Jeff ruptured a disc in his back and had to sit this one out. Duane Peters was also out with an undisclosed injury, much to the dismay of the crowd. DP put on a show the past 2 years that had to be seen to be believed and he was sorely missed along with Grosso, Lance, and Salba. These injuries opened the door to a few new faces, namely SD ripper Jason Parkes, east coast dominator Paul O'Hara, Geoff Fletcher coming in hot out of Manly, Australia, and Danish destroyer Nicky Guerrero. In addition, Eric Nash returned after skipping last year's event, and he was skating like a man possessed. Two seven man heats and a six man heat made up the qualifier round, with the top three riders from each heat advancing and the next highest scoring rider slated in to round it out at 10. When the dust cleared from qualifying, 10 men prepared for the finals. Steve Caballero, Chris Miller, Tony Mag, Buck Smith, Steve Steadham, Pat Ngoho, Ben Schroeder, Lester Kasai, Eric Nash, and Nicky Guerrero all made the cut to ten. You have to understand that the Masters' division is really the Chris Miller show, no matter how you slice or dice it. Miller's overwhelming mastery of the Combi leaves the other 9 riders to battle it out for 2nd place on down. Every year the pundits wonder if Miller can be beaten. We can all wait another year now to entertain those misplaced ideas. Ben Schroeder was only able to take 3 runs in the final before exiting with an injury, but big Ben still left his indelible mark with astounding lip work and his signature late eggs in the square. If Ben had been able to continue, he might have powered his way beyond 10th place. Buck Smith and Tony Mag seemed to be on a collision course even before it actually occurred. Buck is blue-collar to the bone, tough as nails, and when it's on, so is he. Tony Mag is the guy that tries to get under people's skin. He is no stranger to the snaking game. He is also the guy that will stay in, even if he gets in late. After a couple of close calls, the inevitable happened. Both Buck and Tony went down hard and got shaken up. Both riders continued and ended up taking 9th and 8th place after some harrowing moments. Steve Steadham was riding harder than ever this year, and arguably is one of the fastest guys out there. Steve used to abuse the original Upland Combi, and he is making a science out of attacking this version of it. Big judo airs, backside bonelesses, and lengthy boardslides landed Steve in 7th place. Pat Ngoho narrowly missed the cut the past two years, and when I mean narrowly, I mean he got out and out cheated at least once. Ngoho is one of the smoothest and most stylish guys ever to set foot on a skateboard, and he mixed it up this year with a pocketful of new moves. Effortless frontside ollies, big Indy airs in the square, inverts and back Smiths in the round. Ngoho made it all look good and wound up in the number 6 spot. Lester Kasai is another one of the original Upland Combi rippers. Huge airs, invert variations and a high speed attack all combined with Lester getting a lot of runs in during the jam helped him right into 5th place. Eric Nash may have found a way to pipe the waters of the fountain of youth directly into the taps of his home. Nash was on fire, hucking huge backside ollies, beautifully drifted Indy airs, Inverts, eggs, back disasters, Smith grinds, and perhaps even a couple of nosepick variations to ice the cake. Nash grabbed 4th place honors in a very impressive show of force. As far as the top three were concerned, Steve Caballero and Nicky Guerrero were going toe-to-toe, looking to take Miller down if possible, in other words these two were skating to win it. Guerrero is quite possibly one of the most influential european skaters of all time, and didn't appear to be slowing down one bit. Nicky tossed up some picture perfect sadplants, along with adapting his serious vert ramp game to the Combi's unfriendly contours in a most superbly smooth fashion. Nicky took home 3rd place and 3000 American dollars. Ever since Steve Caballero re-entered the competitive bowl riding circuit a few years ago, he has been re-defining the term "master". If we had a lifetime achievement award for skateboarding, Steve would most likely be everyone's vote for the first and all-time recipient. 30+ years in and Cab is still at the forefront of perfection in skateboarding. Signature frontside inverts, 5-0 reverts, big torqued bonelesses, overturned Indy nosebones, and about 300 other tricks rolled out of Steve's bag, carrying him directly to 2nd place and 6000 bones. There were rumors afloat in the days leading up to the event, rumors that Chris Miller might be skating in the Pro division rather than the Masters. Miller has dominated this event from its inception and certainly could make a serious run at the top Pro riders, so the rumor had some plausibility, but in the end he won his 4th consecutive Masters' crown and became the only rider to sweep his division in totality. As if he already wasn't untouchable enough with his fastplants, huge nosebone and crossbone airs, and absolute control over this terrain, he also decided to bring back the over-rotated frontside ollie to backwards back smith grind, a signature Miller move from the late 80's that has never been duplicated. At this time next year a 4th banner will hang above the Combi, and once again Miller's name will be on it. It will probably be a cold day in hell before someone beats him here, and there's no snow in the forecast.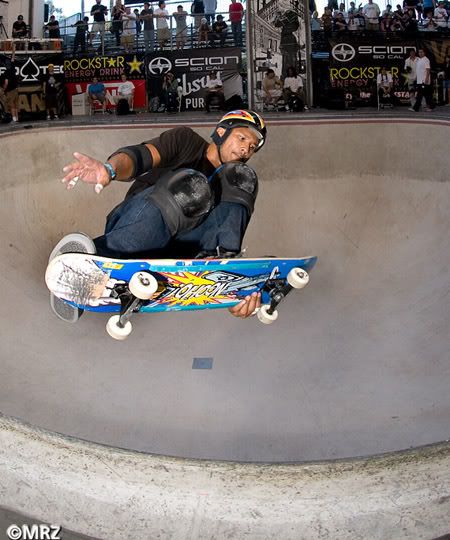 The ever stylish Pat Ngoho.
Josh Nelson. Booming backside air.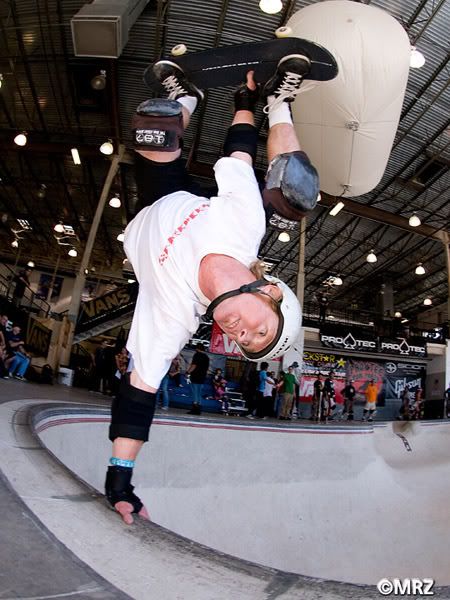 Buck Smith.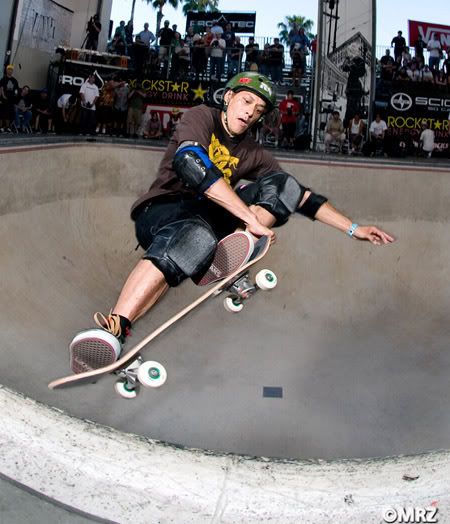 Nicky Guerrero. Crail.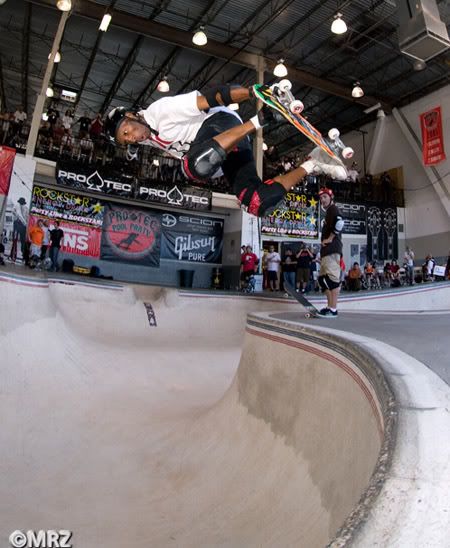 Steve Steadham in overdrive.
Eric Nash.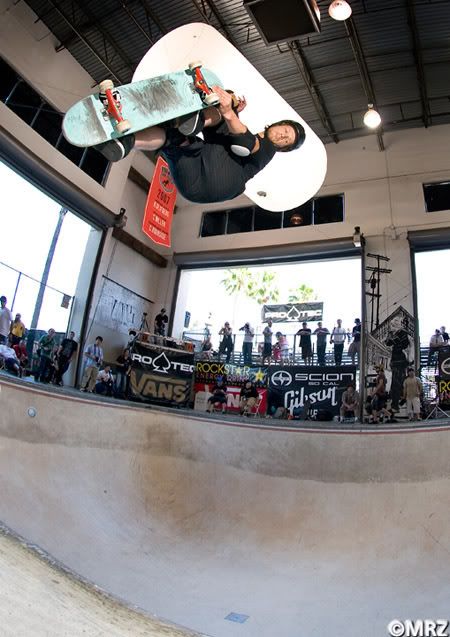 Once again, Chris Miller was untouchable.
Steve Caballero. Classic invert.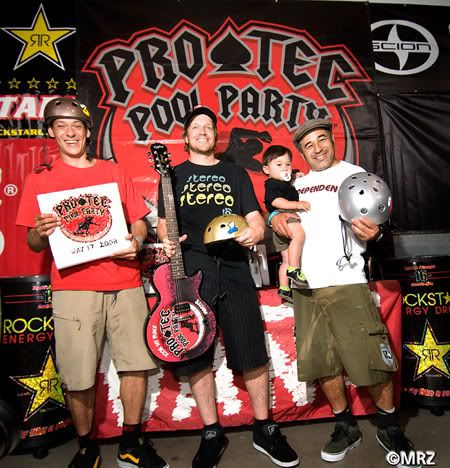 Masters champions, Nicky Guerrero, Chris Miller, and Steve Caballero.
-BLKPRJKT