2008 ProTec Pool Party / Ladies' division wrap-up
Posted 05/19/2008 09:40:00 by
i am vans
The ladies, the ladies... A couple of things that should be understood up front. In case you're not familiar with the Combi pool at Vans, it's not some tame environment, certainly not the most friendly terrain, and it takes a lot more than just skill, determination and experience. If you're really going to rip this thing, you need stamina, guts, and a killer instinct. The big, slippery, ever-changing contours can intimidate even the most hearty souls, and generate a brand of fear that is not easy to overcome. It's probably fair to assume in our society's own brand of sexism, many might be apt to question the sanity of young women who would not only rise to this occasion, but shelve all fear and perhaps some common sense to compete in this realm. But really what it boils down to is that these women have something a little bit different about them, and in fact something much more special than the talents of a large percentage of the male population. One back story surrounding the Ladies division is that of absenteeism and or injury. In simple terms, reigning champion Carabeth Burnside sat it out with an injury this year and young threat Apryl Woodcock did not enter. Without these two phenomenal riders present, the door opened to a couple of young newcomers and rookies who came ready to rumble and shake up the order. And herein lies the true story of this year's Ladies' division. It was a minor issue the previous year with the conflict and confrontation between CB and upstart Julie Kindstrand during the heated Ladies' finals. With Carabeth out, Mimi Knoop was looking to take the title but she had to hold off a hungry crew of capable youngsters. 18 year olds, Lyn-Z Adams Hawkins, and Amelia Brodka, 15 year old Julie Kindstrand, 12 year old Lea Taylor, and pint-sized 11 year old Allysha Bergado. Amelia Brodka had a rather impressive southern california debut at the GvR event last summer. All of her Rye Airfield bowl training has paid off and Amelia battled her way into 5th place with a solid air game and a good combination of lines. Now if you ask me, seeing 11 year old Allysha Bergado tossing up big backside airs and inverts in a pool that dwarves adult-sized humans is rather surreal. Most kids her age want nothing to do with the Combi, but she is a fearless tyke of a different variety. Allysha handled 4th place with authority beyond her years, and will definitely be a contender for years to come. If you want to get right down to it and talk fearless, Lyn-Z Adams Hawkins comes to mind. Lyn-Z has successfully done the mega ramp, that yardstick of guts in the skateboarding world, so skating the massive contours of the Combi probably seems rather trite to her. Lyn-Z took 3rd with stylish lines and a deep bag of vert tricks including her perfectly executed Andrechts. Last year Julie Kindstrand made some serious noise at the pool party, and her mere presence was perceived as a threat to one veteran in particular. She lives right down the street, so she localizes the Combi and has a boatload of creative lines that make it seem like she could skate the Combi in her sleep. Julie used the hips to her advantage, popping up and over them into 50-50's, simply as a set up line to big airs and lengthy grinds. Julie drove it hard and took 2nd place with ease. Mimi Knoop still has it. For years she and Carabeth have been battling it out for the top spot in every event they enter. Mimi's command of big vert translated well once again to the Combi, as she busted ollies through the corners, a variety of air variations, and finesse moves like big nose grinds on the flat walls of the square. At the end of the day, Mimi took home top honors and a nice 4000 dollars for her efforts. Congratulations to all of the Ladies' division competitors. Each year they have raised the bar and set an even higher standard, and it appears there is no limit to where they can take it in the future.
Cressey Rice, barefootin'.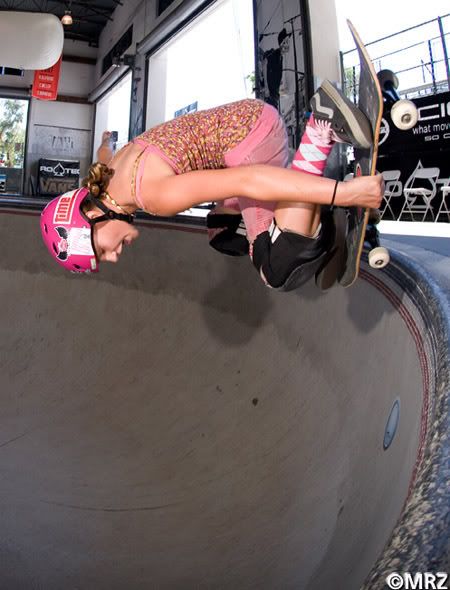 Taylor. Japan air.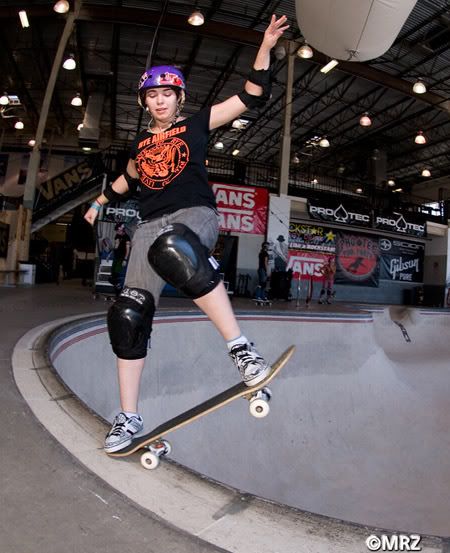 Amelia Brodka, 5-0 to tail.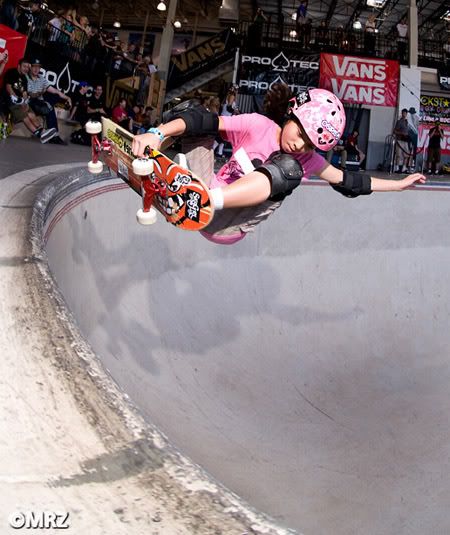 Allysha Bergado.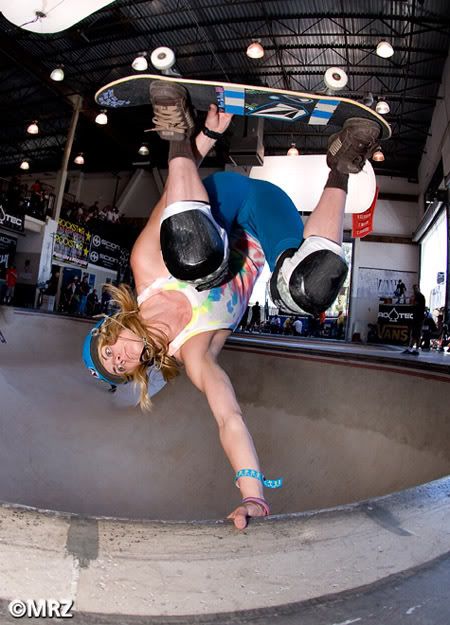 Lyn-Z Adams Hawkins. Andrecht.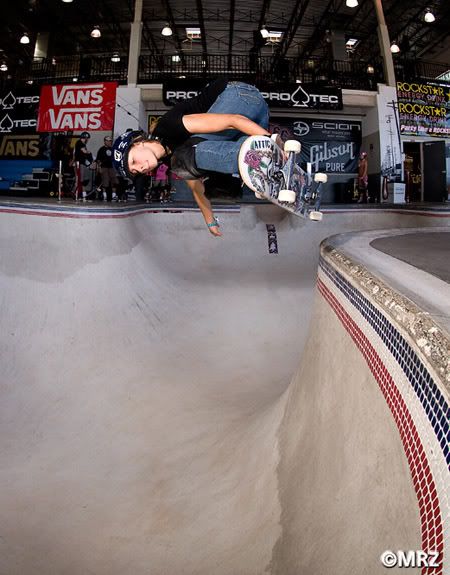 Julie Kindstrand. Over the hip.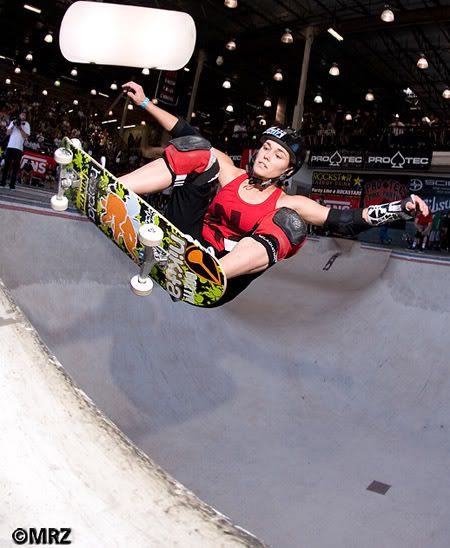 Mimi Knoop. Ollie.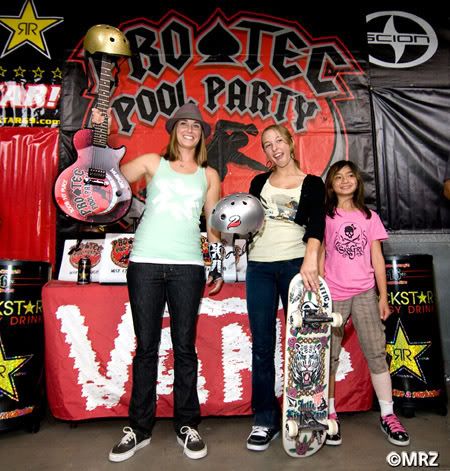 Lyn-Z had prom so Allysha stands in on the podium with Mimi and Julie.