Elitism
Posted 04/26/2007 09:59:00 by
i am vans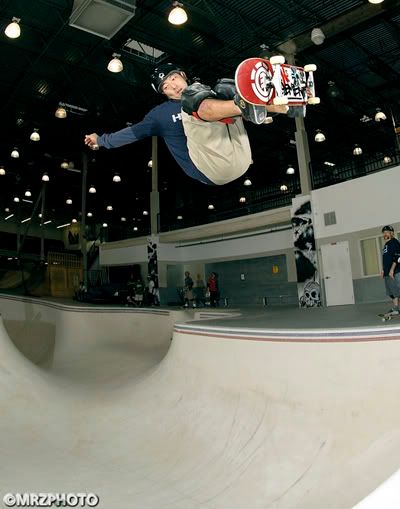 It has been said that Lincoln Ueda is more comfortable with skatelite and long flatwall. Don't believe every pocket philosopher you might hear.
The word "elite" gets tossed around all too often by those who don't understand the technical definition of the word. I've often heard the word elite connected with politicians, corporate leaders, and vastly wealthy jerks. Sure, in the sense of the Merriam-Webster dictionary definition which clearly points out that the root of elite is from the old french term eslite, the feminine form of eslit, meaning: a group of persons who by virtue of position or education exercise much power or influence; (members of the ruling elite), the label might be correct. Stripping down the word to it's base element, elite really best describes super-achievers who dominate. I've bandied the word elite around when presenting the names of the invited and qualifying riders for the 2007 Vans /Pro Tec Pool Party, based wholly on this definition. Never mind some socio-political or economic baggage attached to the term, you can check those bags at the curb.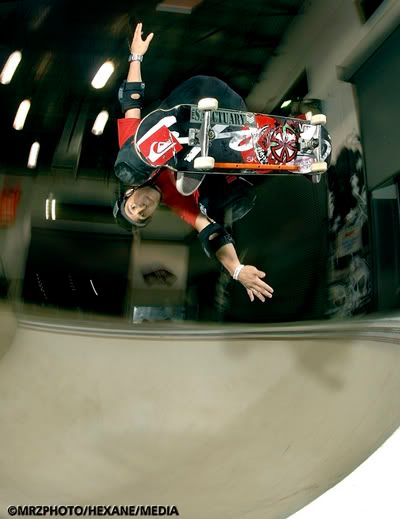 Christian Hosoi is generally considered as skateboarding royalty. This screaming backside ollie is simply part of the ethos of such definitions.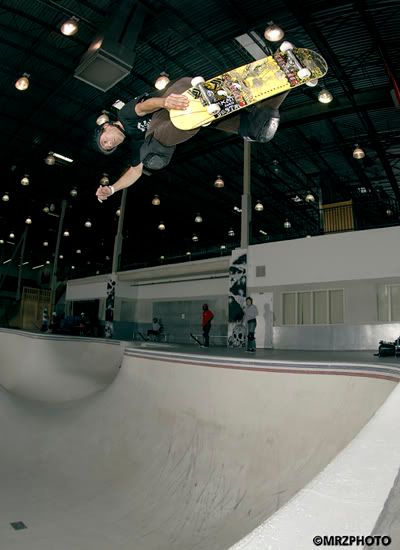 Some guys are so elite, they have no need to prove it inside of a competition setting. Peter Hewitt, NOT training for the event.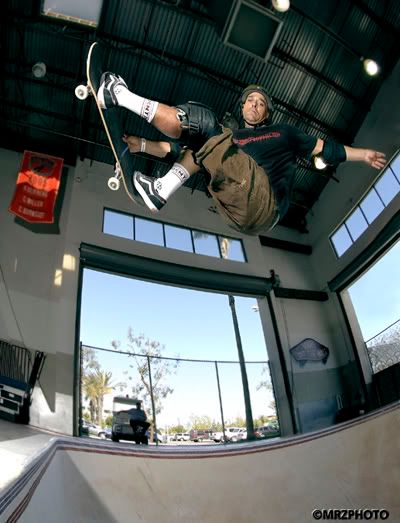 Omar won it all last year. If you don't consider him an elite skateboarder, it's time to go to college. Nose bone stare down.
If someone were to ask me why I sometimes drop the e-bomb, my reasoning would come across as the following. The top skateboarders in the world manifest through their own mastery and prowess, a laundry list of "tricks"(I hate this term.) which have been proven by physicists to be impossible based on the laws governing our little ball of dirt hurdling through the universe. And yet these skateboarders are able to perform them, under their own power no less. Limitations, it would seem, truly only exist on paper, in theoretical terms. The constraints of gravity, inertia, drag, and so on, only serve as an invitation to break the rules. Skateboarders utilize gravity far more than any lab jockey, and therefore are able to manipulate it as they see fit. Not only that, but I have witnessed with my own eyes, the seemingly impossible become reality, strictly out of of a defiance and absolute disrespect of gravity itself. A scientist will tell you that Lincoln Ueda, for example, cannot physically launch himself 14 feet in the air, traveling 45 feet laterally, and actually accelerate while doing so. Their entire library of texts is devoted to proving, on paper, that this is not possible. The so-called "laws of the universe" govern all things equally... or do they? A scientist might point out that perhaps with some sort of propulsion assist device, a strap-on jet pack, or a motorized skateboard, that Lincoln could alter the playing field on which his opponents are gravity, drag, friction, and so forth. And yet, Lincoln performs the "impossible" completely unassisted. If someone is able to defy the laws of the entire universe as dictated by even the most intellectually superior geniuses, then I firmly believe that that individual qualifies as "elite". Never mind a set of laws based on a construct of judeo-christian ethics, we are talking about the entire universe here. And to downright disrespect these laws and abuse them, especially in the name of skateboarding progression? Well, it all becomes crystal clear.
Brian Patch came back from nearly career-ending injuries to place in the top 5 last year. That Hetfield 'stache should signify to you that Patch is out for blood.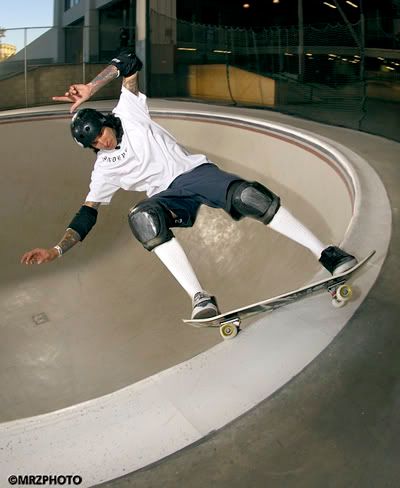 The Vertical Vampire, Darren Navarette wasted no time in coming in to destroy the freshly cured pool block in the combi. Navs burns the Salba sauce right off of that fine masonry on this category 5 hurricane.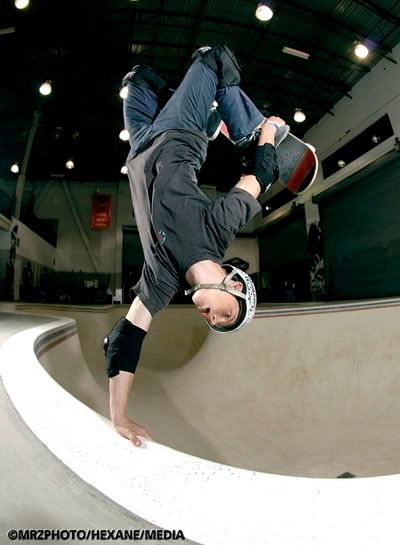 Ever heard of Nolan Johnson? Maybe not, but after this year's Pool Party, you will know him. Like Josh Borden last year, Nolan is the dark horse for 2007. Tucked and flapped invert with power.
So in a nutshell... yes, ladies and gentlemen, these are the elite. Not elitists by any stretch, simply the elite. Enjoy defiance. Piss off a scientist. Skateboard.