Turn out the lights, the party is over... for this year.
Posted 05/22/2011 04:22:12 by
Christian
Sometimes you just have to take a deep breath---
For anybody who is in the house during the Pro-Tec Pool Party, or has ever been, there comes that moment where you find yourself out of breath, hoarse from screaming your lungs out, or simply reeling from what you are witnessing in real time. For those of us lucky enough to be on the decks as this thing unfolds, strike that, explodes, we hold our breath collectively in the midst of a 9-foot air, we destroy our vocal cords as it is landed and we smack our palms into oblivion cheering on these beasts of vertical bowl riding as they lay waste to a seemingly unconquerable set-up. There is an energy here which we feed off of, and expend in equal parts. It is the chaos and carnage of the most elite of the elite in skateboarding unleashing everything they have in one massive surge. You think this thing doesn't get better with each passing year? Wrong. For all of the talk of missing riders and format changes, the Pro-Tec was as good as it ever has been. Just check out some of the action, captured in still-frame format: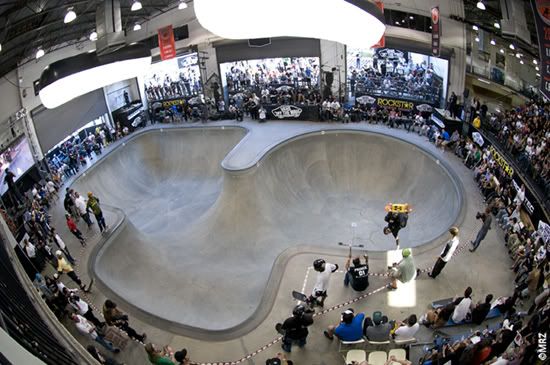 Overview.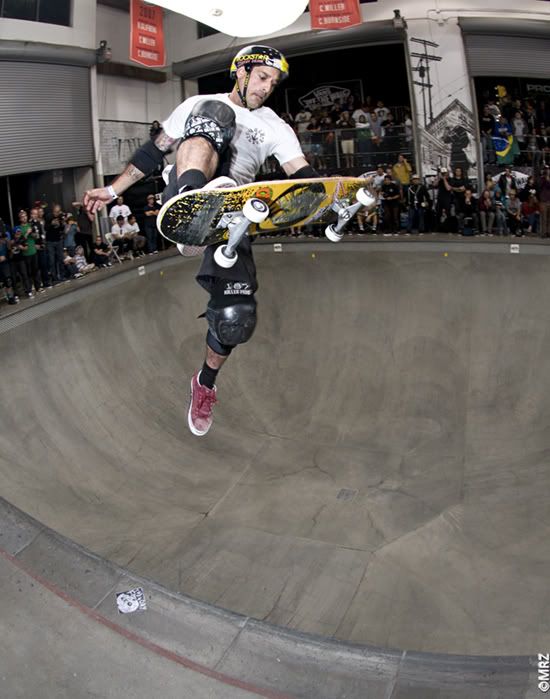 Omar Hassan
Sandro Diaz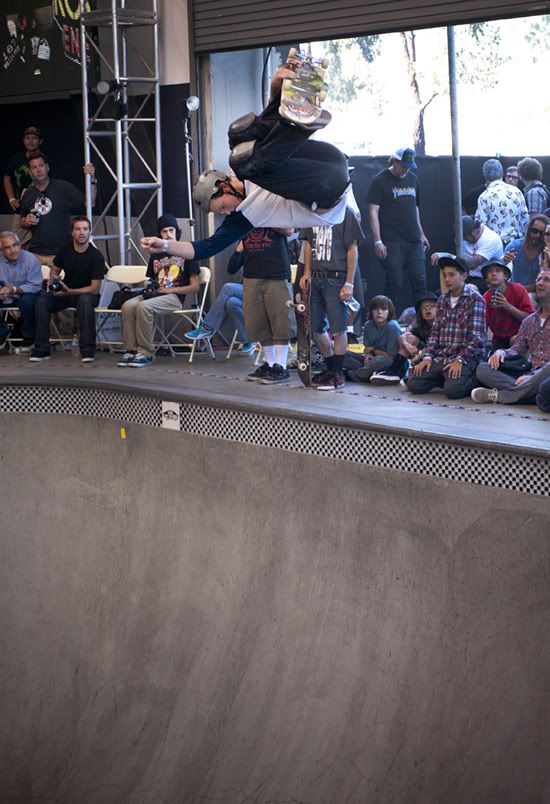 Josh Borden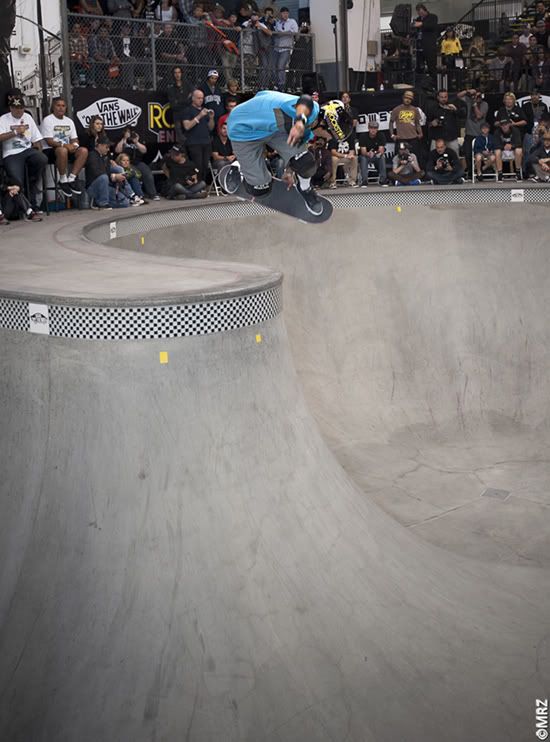 Sergie Ventura
Tony Hawk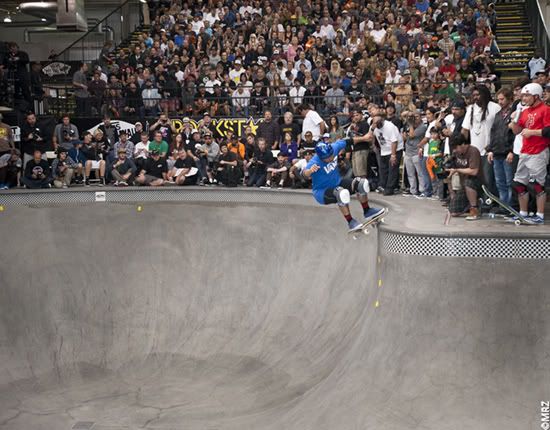 Steve Caballero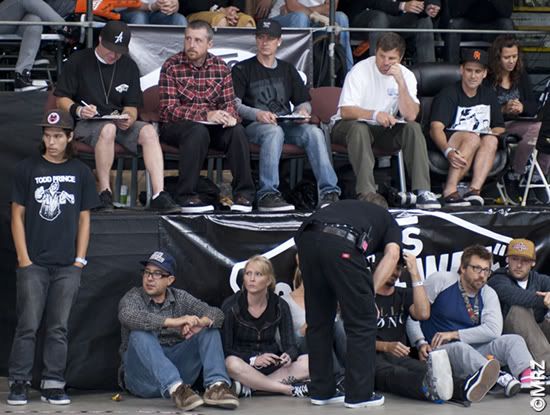 Judges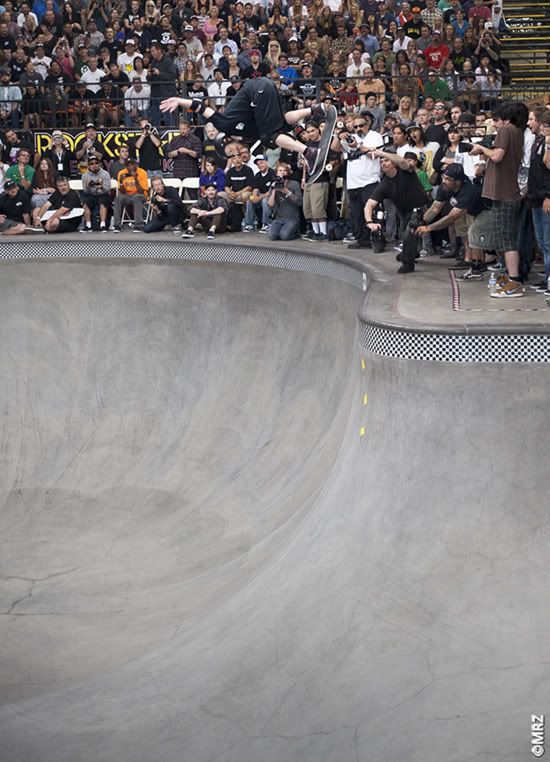 Chris Miller
Pat Ngoho
As far as breaking it down into bite-sized chunks of reality, here's how it goes down in the condensed-cream-of-soup fashion. Apple carts were upset, cows were let out of the barn, and the entire city was burned to the ground. Such is the nature of things when skateboarders on this level all clash in such an arena. You'd be hard-pressed to actually tell someone what this thing is, but certainly, it's quite easy to tell everyone what it isn't. It isn't some made-for-tv extreme sports stunt show. It isn't simply a stage on which nobodies claim their 15 minutes of fame as guaranteed by one Andy Warhol. It isn't a beauty pageant, a popularity contest, or a school play. It isn't a competition for also-rans, pretenders, or fakers of the funk. And in the end, all of the things that it isn't, are what makes it both relevant and vital to this thing we call skateboarding.
Alex Perelson
Mike Owen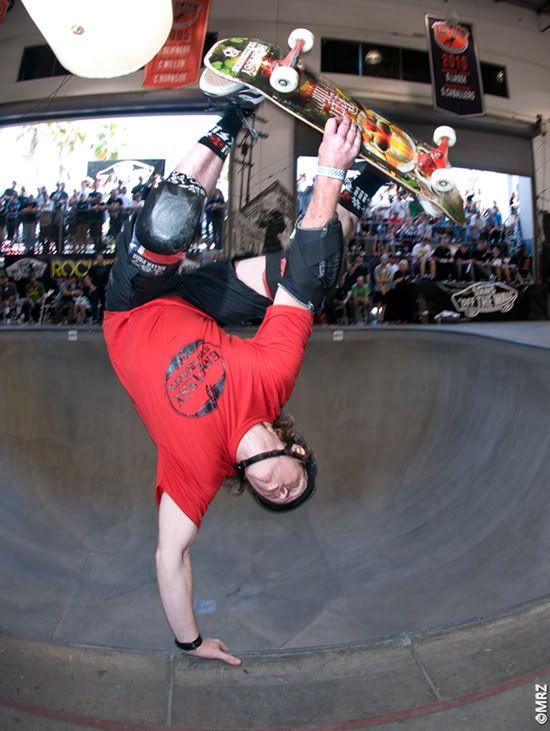 Ken Fillion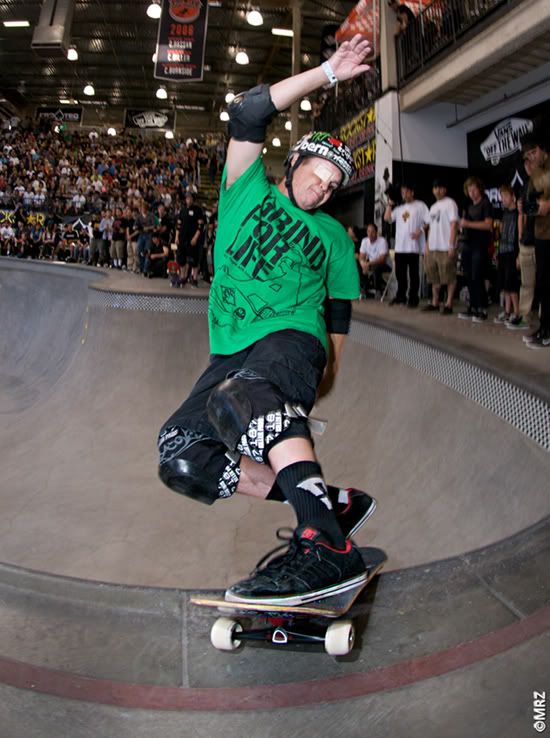 Mike Rogers
Andy MacDonald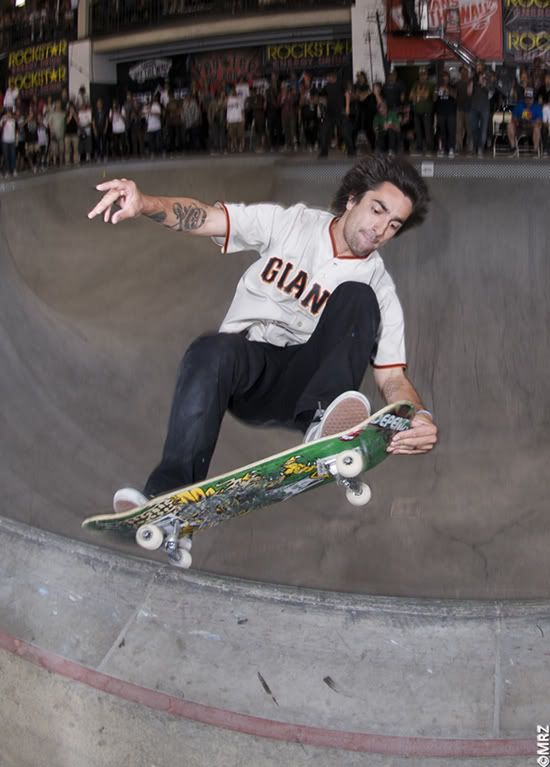 Tony Trujillo
Zach Miller
Rune Glifberg
Duane Peters
Eric Nash
So as the curtain has already fallen, last call has long past and everyone has departed into the night, we can safely say the 2011 Pro-Tec Pool Party has been as good as it ever gets. 7 years in, that's a tall order for anything to stand the test of time. Yet somehow, each year, the skaters out here have made it better than the last. Seasoned pro vets like Omar Hassan and Rune Glifberg, legends such as Lance Mountain, Duane Peters, Tony Hawk, Steve Caballero, and Steve Alba. Young upstarts like Mike Owen, Alex Perelson, Nolan Munroe, and Pedro Barros. These guys, along with the rest of the field, are the vanguard, the elite. The reason to gasp for breath, destroy your vocal cords, and go home feeling truly satisfied by a gut full of the rawest skateboarding that exists in a competitive environment. You will never find a purer form of hardcore, pedal to the metal skating, at any time, in any place. Pro-Tec Pool Party #8… are you ready? We can't wait.
Rob SLUGGO Boyce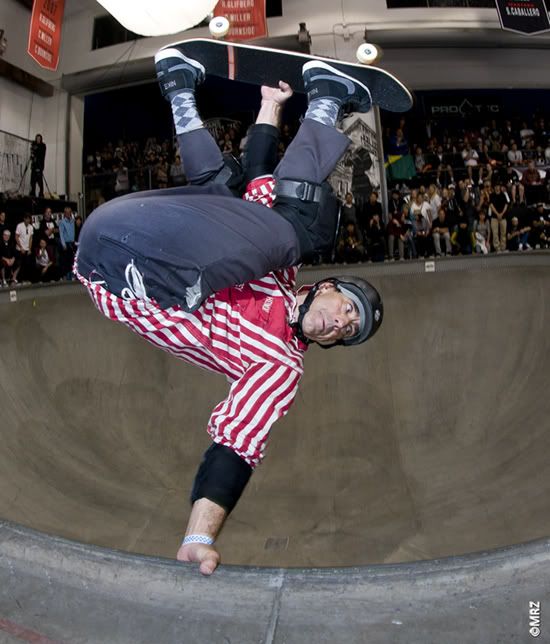 Lance Mountain
Rune Glifberg
Nolan Munroe
Pedro Barros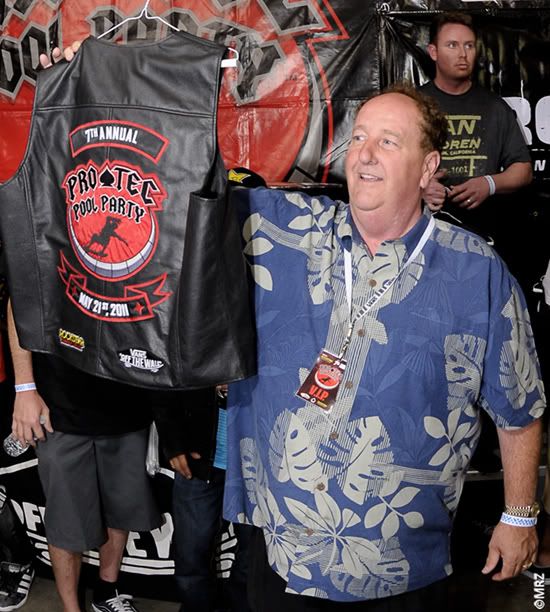 Steve Van Doren hoists the colors.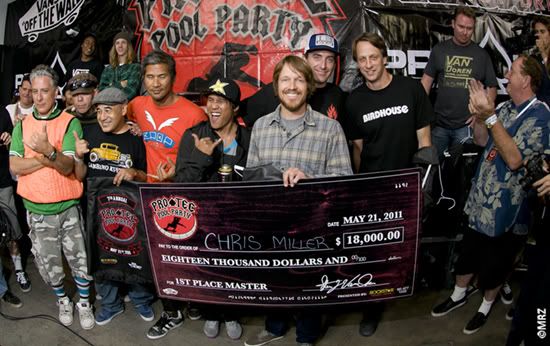 Masters' champ Chris Miller and his giant check!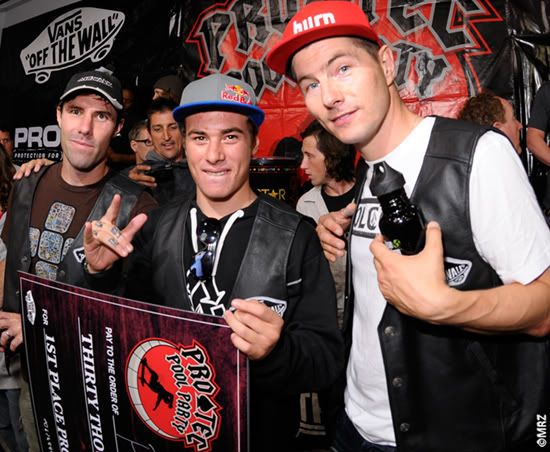 Pro top 3, Andy MacDonald, Pedro Barros, Rune Glifberg.
Here's your top 5 finishers for 2011:
Masters 1. Chris Miller
2. Steve Caballero
3. Lance Mountain
4. Tony Hawk
5. Eric Nash
Pros:
1. Pedro Barros
2. Rune Glifberg
3. Andy Macdonald
4. Nolan Munroe
5. Alex Perelson
Adieux!
-BLKPRJKT