Pro-Tec Pool Party 2011 qualifying final results
Posted 05/20/2011 11:55:38 by
Christian
View to a kill---
2011 heralded the return of a last-chance qualifier for un-seeded riders to battle it out for 8 spots at the big show on Saturday. 8 Pros and 8 Masters would move on after proving their mettle and earning a spot on the Pro-Tec Pool Party start list. The qualifying heats showcased some of the best in underrated and unknown talent, as well as some very legendary Masters division skaters riding as if they had found the fountain of youth. All of the riders involved brought their "A" game out last night. The field is now set. Check the photographic documentation below.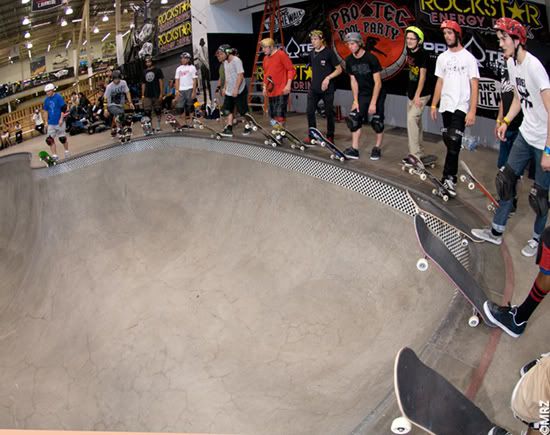 Line-up.
Daniel Cuenvo. Huge Slob air.
Josh Mattson. Flash and roll.
Steve Piniero. Stale Fish.
Legend. Lonny Hiramoto.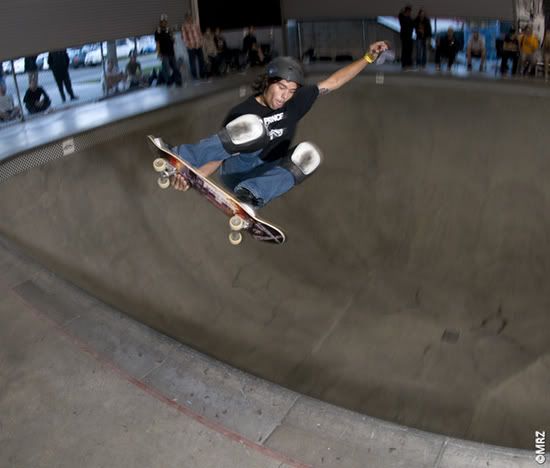 Ben Johnson.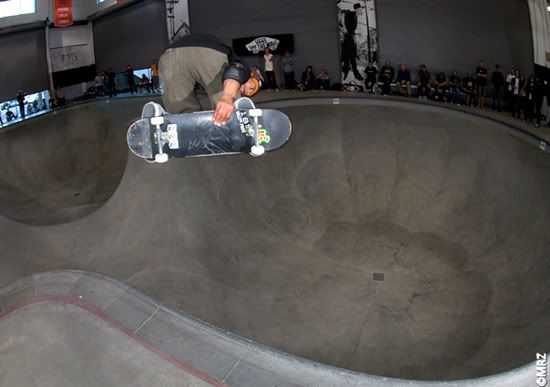 Evandro Menezes
Marcelo Kosake.
Pat Black, Texas plant.
Ken Fillion.
Take a moment to reflect---
During last night's Pro qualifier, there was an accidental collision between Darin Jenkins and Josh Stafford. The, open jam format, and the blind nature of the Combi bowl, along with hungry pros trying to secure a spot for the most elite event of the year can make things dicey to say the least. The Combi is an unforgiving pinball machine and in these types of situations, things can go wrong. Both Darin and Josh went down hard, and Josh needed a trip to the hospital for stitches and to get thoroughly checked out. Both of these guys were ripping and they would have easily qualified for Saturday's event. We wish both Josh and Darin a speedy recovery and hope to see both of these amazing skaters at full strength in the immediate future. Josh Mattson also unfortunately went down during practice and wasn't able to continue, due to a gash on his eyebrow. This pool is no joke, and when guys are skating at this level, it makes you appreciate just how good they really are.
Brad McClain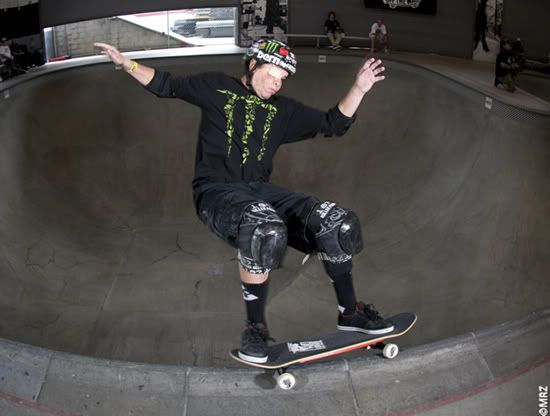 Mike Rogers
Josh Stafford. Huge boneless. Heal up fast, we need you out here!
#1 Pro qualifier Mike Owen, wrecking shop.
Skreech, WTF!??!!??
#2 Pro qualifier Michael O'Friel.
#2 Masters qualifier Jeff FFEJ Hedges, strong invert.
#1 Masters qualifier Rob SLUGGO Boyce.
Jake Piasecki, full bore frontal invert.
Paul Wizniewski, backside blast.
Here are the final qualifying results:
2011 Pro-Tec Pool Party Qualifying results:
Pro:
1. Mike Owen
2.Michael O'Friel
3. Steve Piniero
4. Evandro Menezes
5. Daniel Cuenvo
6. Josh SKREECH Sandoval
7. Mike Barnes
8. Brad McClain
Alternates:
#1 Ronnie Yerman
#2 Ben Johnson
Masters:
1. Rob SLUGGO Boyce
2. Jeff FFEJ Hedges
3.Paul Wizniewski
4. Aaron Astorga
5. Jake Piasecki
6. Pat Black
7. Mike Rogers
8. Ken Fillion
It's on now!
-BLKPRJKT